The Canadian-Colombian experimental artist's latest album sees her ascend to new heights by being unapologetically herself.
Lido Pimienta isn't afraid of making a statement. In 2017, the electronic experimental artist won Canada's prestigious Polaris Prize for her album La Papessa, the first record sung entirely in Spanish to win in that category. At the award ceremony, Pimienta called out the racism that her family, which is of Colombian origin, had experienced in Canada. Then she made a land acknowledgment and thanked the indigenous people of Canada, referring to them as the "real people of Canada." 
On her latest album, Miss Colombia, she sounds as bold as ever, tying together cumbia and electronic music with flair. The title is a cheeky nod to when Steve Harvey fumbled awarding the Miss Universe crown. The album art pictures Pimienta wearing a crown, her hands floating palms-up at her sides as a yellow veil billows out behind her. It's a clear reference to the Virgin Mary—a figure that is culturally significant in Latin America and immediately commands respect—and it imbues Pimienta with a similar magnificent splendor.
"I have a very strong personality, and I see myself as a queen," Pimienta told AdHoc. "I make it a point that when I am in a room you are going to feel my energy."
The cover art isn't supposed to be blasphemous; rather, it's a visual quip aimed at deconstructing the Madonna-Whore dichotomy that restricts women in Colombia. Pimienta revels in making fun of societal constructs like these, not just in her visuals but also in her music. 
On "Pelo Cuco," a stripped-back track from a session with famed Afro-Colombian folk group Sexteto Tabala, she proudly proclaims, "Tengo mi pelo cucu / I've got my nappy hair." "Te Queria" sees Pimienta joyously prioritize herself and exit a parasitic relationship as she repeats "Yo te bote / I let you go." "Resisto y ya," a defiant call to action, shows how much fun Pimienta is having as she climbs to the top.
But there are barriers on the path to greatness, especially for an immigrant woman of indigenous and African descent. Born in Colombia and living in Canada, Pimienta says she has struggled to find her place in both countries. Miss Colombia, she says, is "about that lost sense of belonging"—and Pimienta doesn't shy away from delving into harsh realities, her ethereal soprano voice soaring high as she sings about the pain of childbirth ("Nada"), disappointment ("No Pude"), and being hurt by those you love ("Eso Que Tu Haces").
Miss Colombia's dramatic, baroque production drives home the intense feelings of love and pain. It's hard to listen to Miss Colombia without thinking back to that image of Pimienta as the Virgin—a woman determined to hold her head high, regardless of what comes her way. It shows that Pimienta has talent to match her ambition, and she probably won't be satisfied with anything less than world domination.
Pimienta spoke with AdHoc about the meaning behind the songs on Miss Colombia, how motherhood taught her tenacity, and how she doesn't want to make just "political music"—she wants to make great music.
Miss Colombia is out now via Anti- Records.
In the past you've said you no longer feel Colombian. After recording this album between Canada and Colombia, do you still feel that way?
Lido Pimienta: I don't feel like I belong anywhere. Yet, I feel like I belong everywhere. So the album is about that. It's about that lost sense of belonging. I don't feel like I belong in Canada. I am very proud to be Colombian but because of all the politics there and all the injustices it's very hard to feel like a proud Colombian. The longer I live outside of Colombia, the more strange I feel in the country. It's a feeling that any immigrant can identify themselves with. It's a trip within itself to not feel like you are where you're supposed to be, and then you go back home and still feel lost. I feel like I am a lost Colombian that is still lost in translation in her own country that she was born in.
What was it like being back home and recording with Sexteto Tabalá?
You know it's like just like you are hanging out with a bunch of your uncles and your grandfather. It was a very natural and beautiful experience. We were just out in the backyard and frontyard making music. I had shown them the songs before I arrived but they didn't know it or practice it, so we were like "let's just start from scratch." So we jammed and for the record we chose the third take and that was it. We did it like four times. They were drinking, having fun, and telling stories. I had always wanted to work with Sexteto since I was a teenager, when I was first introduced to their music. I can't wait to do it again, and bring them with me on tour on dates that we can do it.
The songs that Sexteto Tabalá were featured on were recorded outside?
Two songs, "Quiero Que Me Salves" and "Pelo Cucu," were [recorded] outside. I brought my co-producers and engineer Prince Nifty, and he came down and we rented a bunch of mics and stands, and just set up shop outside one of their members' house.
The town of Palenque, they have a studio but I didn't book any time because I knew it was quiet enough for us to record. The quality was going to be good enough for us to record in that environment. It made more sense technically and logistically for me and Nifty to go to them with our gear and set up outside in a natural environment than bring them into a closed space, for a song that they didn't know and had to learn. It just seemed the time was better spent outside. For me, most of the takes I do sometimes may not be the most technically perfect, but it's the emotion and the energy that I go for, way more than a technical performance.
In the song "No Pude," which you've said is about your relationship with Colombia, you sing "But it was not knowing who you really were, that kept me going." Do you think you know Colombia better now?
When I first moved to Canada, I had this idea that was very driven by nostalgia, that Colombia was the best place in the world. So "No Pude" came out of the disappointment of growing up and understanding in your adulthood how messed up this entity known as Colombia really is. How these memories you had a child, before your blindfold came undone, was a fabrication of your own yearning to go back home. When you're in the winter and you aren't used to it, you start romanticizing about your home, especially when it's a tropical place. 
I was an avid, fierce defender of Colombia. But then you grow up! Like, "Wait, actually I think I'm better off if I stay in Canada for a while now. Maybe in a year it won't be so violent. Maybe in three years it will be a better place for women." It's not like Canada is a perfect place, but for somebody like me, I am an easy target. I am somebody who could potentially be a threat to the government because of my ideals. As a mother of young babies, I have to be very careful. And that's what the song is about, that's why it's dramatic and the choir is very intense. The arrangements are almost an explosion of emotions because of those feelings of resentment, disappointment, of being tired and exhausted of being in this system that never seems to get better.
You've said before in the interview that it would be nice if you could turn on the radio and turn on the TV and be content. Do you think it's possible to sort of separate art from politics or are the two sort of inextricably tied together?
Separating art and politics is a privilege that only a few possess. Maybe a rich white person can do it, but for the rest of us, even if I wanted to write an album about how much I love shoes, it becomes a political act because of the country I was born in and the skin I wear. Even if I wanted to consciously reject politics or any socio-political issues, it's impossible. I can't even think about not being an artist who has something to say because of my condition as a immigrant person, a woman, a mother, queer—all of the things that I am and the groups that I belong to.
Is it burdensome to be expected to use your platform in this way, or do you see it as an opportunity?
First and foremost, I am an artist. Right now, I'm trying to be more business-savvy. I'm trying to just use other tools so that I don't feel that I can only have either a platform because of some social narrative or political narrative that backs me up. I don't want that. I want people to listen to the music because it's good. I can't control how people perceive me, and I don't worry about it. By the time that people see a song or a video, I'm already on to the next thing—I'm already writing the next album.
In what ways has being a mother influenced this album?
I wrote the song "Nada" after I gave birth to the baby, because of the hole that is left after birth. It's very painful. I always think that my baby gave me that song. I hear the song and I think "I don't even know how I wrote that."
It just takes a lot to be a woman. It takes a lot of work. I don't know if any other songs are directly inspired by motherhood, but to be able to do an album you just have to be organized. I feel like I am a mother who happens to be in the music business. I'm just pragmatic, like I'm going to wake up, my son's going to go to school, I'm going to make lunch, my baby's going to go to sleep, I'm going to the studio, okay I'm done with studio, then I open the door to my house and now I'm with my kids. You don't sleep, but you just have to be on it and you still have to be a protector. I am inspired by that work, what it takes to take care of children and be their protector. It's just knowing my vulnerability, my own position and my own condition to be dangerous, to be fragile. That's my inspiration.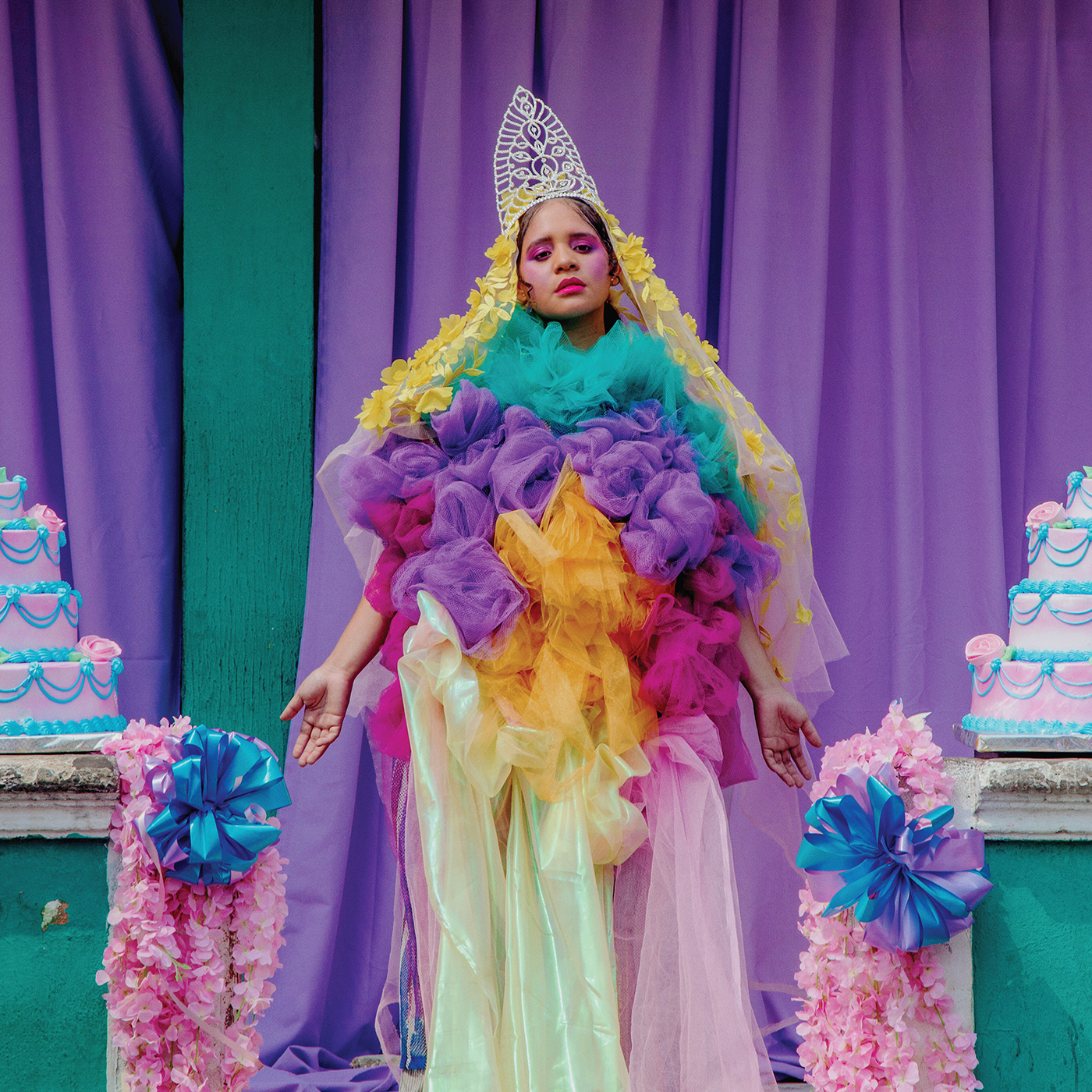 Could you explain the idea behind your cover art for Miss Colombia? I saw it and immediately thought of the Virgin Mary.
I wanted to create an image that would encompass all of the perfect or proper Colombian lady tropes. So the first trope would be that Colombian women are virginal. If you live in Colombia you just don't talk about sex, you would expect your daughter to be a virgin and only give herself to her husband that she will also die with. All those ideas are implanted since your first communion. The Virgin is such an important figure for Colombia. You do your first communion, confirmation, you get baptized, you have your quinceañera—which is a weird coming of age ceremony [where] you dance with your father. The man that you marry should be like your father, which is super perverted and disgusting. And then you are prepared so that you can be a wife. And that is it. That should be your goal. So I wanted to tongue-in-cheek re-interpret all those tropes.
"Pelo Cucu" deals with the societal pressure to adhere to a standard of beauty that's rooted in whiteness. How do you deal with that pressure?
I don't negotiate anymore. I just do what looks good on me and feel good about it. I have a very strong personality and I see myself as a queen. I make it a point that when I am in a room you are going to feel my energy. I'm not a religious person but I am ritualistic, so my body and the way that I dress myself and present myself—the ritual of decorating myself—is very important to me. When I was a child I was very traumatized and hurt and bullied because of my appearance, and now I can see those same girls who would make me feel bad because of my features going under the knife so they can look like how I naturally look like. The most important thing is that I really love how I look.
You had said in a previous interview: "If I were to write in English the whole vibe would change." For this record, are there any songs where you think the message could get lost in translation?
Even if you can't read in Spanish or know Spanish, you're going to get that feeling and that feeling is going to be powerful. We're in the perfect era for an artist like me to be producing and putting music out, because we are ready to listen to anything as long as it's good. My next album could be gibberish and it doesn't really matter. My goal in life is to do an album in Wayuunaiki, which is the language of the Wayuu, of my people, because Spanish is still a colonizer language.
On "Nada," you sing about how you aren't afraid of death because you are "a woman and carrying pain is what I do." How do you turn your pain into a strength?
I don't have the power or the choice to even think about turning pain into strength. Even if something really horrible happens to me or my family, I have to wake up and smile and not let my children see my cry, and make their life the most beautiful life I can give them. Everything that I do is in service of giving my children a home. Everything else that happens beyond that being by chance. Combined with the fact that I'm amazing. If anything I consciously use my beautiful voice, and this amazing brain, and this eloquence that I possess and I'm going to put it all into songs.