"The whole idea was to say, 'Fuck that. I'm sick of seeing every single show have only men on it. I want to create a space at a show that's only women on stage, and get people used to that.'"
In the five years since Rachael Pazdan started producing New York's The Hum, the women and GNC centered music series has evolved a lot. Pazdan originally conceived of The Hum as a one-off event that would center women during a time when all-male bills were frustratingly ubiquitous. The encouraging response to her first women-only show in 2015 inspired her to continue The Hum—first as a bi-annual, month-long event and then later as a limited series. The scope of the series has grown as well, with Pazdan expanding The Hum's mission in 2016 to include non-binary and femme-presenting people. Now, in The Hum's fifth year, Pazdan is gearing up for another pivot, with The Hum set to start allowing men on its bills for the first time.
"I feel like we're at a moment where we don't have to have only women on stage," Pazdan told AdHoc. "But whoever the artist is that I'm presenting, it will be dominantly women or feel like a show that's about a female artist—even if there are a few men on stage."
Though Pazdan says she has seen progress when it comes to gender balance on bills, there is still a lot of work to be done. In a January report co-authored by The Creative Independent's Willa Köerner and musician René Kladzyk, 41 percent of musicians surveyed said that less than a quarter of the performers at shows they attended or played were cis-women, non-binary, or transgender. Pazdan attributes The Hum's longevity partly to the fact that these individuals "need a platform to talk to each other and to meet," and building a community around the series continues to be one of Pazdan's bigger goals. 
The Hum officially turned five years old in April, but with venues shuttered and public gatherings limited due to the ongoing pandemic, the anniversary show has been postponed to September. AdHoc asked Pazdan to look back on the past five years and reflect on the impact of The Hum on the New York music scene, her decision to start including men on bills, and where she sees The Hum going in the next five years.
When you first set out to start the Hum, what was your goal?
Rachael Pazdan: I started the Hum in 2015, and I was starting to produce my own independent projects more. I was going to so many shows and seeing only men on stage all night. There wasn't really a consideration of gender equity at that moment. This is also before Trump, before #MeToo, before the Women's March—it was before this cultural eruption happened. 
The whole idea was to say, "Fuck that. I'm sick of seeing every single show have only men on it. I want to create a space at a show that's only women on stage, and get people used to that." Also creating a platform for women to meet, connect, and collaborate—to work out new songs and be inspired to write new songs.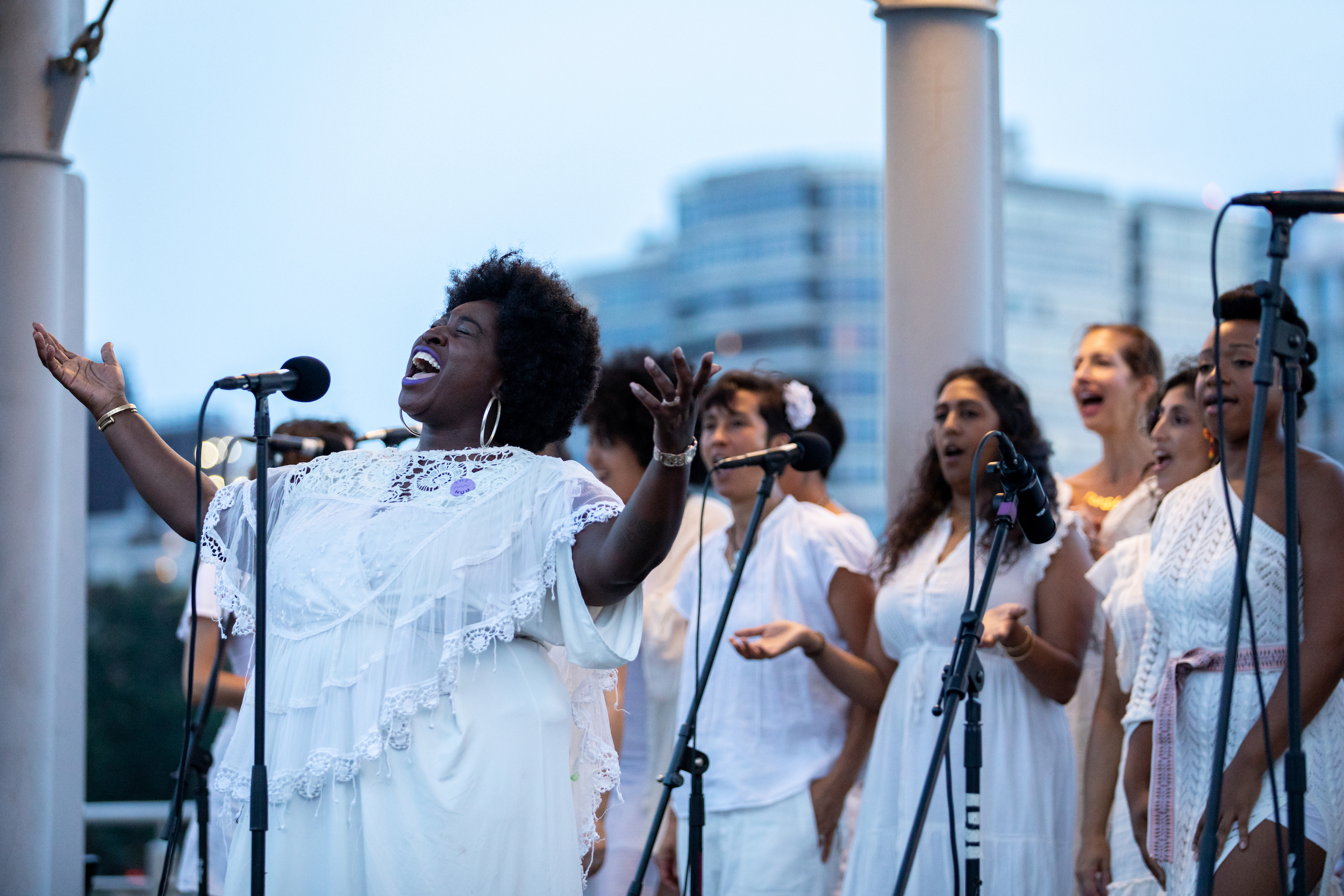 After five years, do you think you've achieved your goal of making women-only line-ups normalized?
There's still so, so much work to be done. As a woman in the music industry, there is so much sexism that happens that's really subtle. Women feel scared to call attention to [it] because they aren't sure if they should or not, because of how subtle sexism can be. I still go to shows and see nights where it's only men on stage, but I definitely have seen more balance on stage.
There's been a lot of other music series that feature women since The Hum has started, like GirlSchool in L.A., which is extremely well done. In New York, Audio Femme has started presenting a lot more shows that are female-focused, [there's] Women that Rock, [and] the Resistance Revival Chorus. There's this conversation evening with this group called Now What?? that hosts really great artist conversations. I'm a really big believer in women opening doors for other women and lifting each other up, not competing against each other. I'd love to collaborate with more uplifting female groups in music in New York. 
Reflecting on what we've done for the past five years and where we want to go in the next five, I am doing away with the only women or GNC femme-presenting people on stage. I feel like we're at a moment where we don't have to have only women on stage—I feel like I've driven that point across. I want to grow as a music series and be able to present an artist who's going to be on tour coming from L.A. to play in New York, but her band has some men in it. I want to empower women who I'm presenting if they feel really comfortable with their drummer who's a guy.
Does this mean that you are going to be focusing on having women-fronted bands, regardless of whether or not they have men in the band, or are you also looking at bands with just men?
No, it's definitely going to be a series that is always focused as a platform for presenting women and femme-presenting GNC artists. I'll never present a show that is clearly presenting a male band on stage—that will just never be in the mix. It doesn't necessarily have to be "female-fronted" in the way where you think of a female singer and all men behind her—that actually really bothers me. I think that's a hurdle that we have to cross—women can do more than be the front singer in the band.
It'll be a mix of the special projects that I've been producing with The Hum—like the classical shows where I put together a 25-piece all-female orchestra with a female vocalist—but now, similar to other promoters in New York, [I'll be] promoting someone's album release show or a tour. Whoever the artist is that I'm presenting, it will be dominantly women or feel like a show that's about a female artist—even if there are a few men on stage.
What impact, if anything, do you think The Hum has had on the music scene in Brooklyn?
I think the impact that I've seen and felt has been connecting artists who are women, and the projects and relationships that they've formed out of meeting at The Hum. I know a handful of artists who have been put together for The Hum who've gone on to create music together and just form these beautiful solid allegiances as musical partners. I feel like a lot of people have met and connected and really become a community. I've had over 300, maybe over 350 musicians participate in the series over the past five years. I always give out pins that say The Hum on them to performers, and it's fun to see people wearing their pins around Brooklyn.
What are some of the notable collaborations that have happened through The Hum?
One notable one is actually from 2015, at one of the first shows that happened. Teeny [Kristina "Teeny" Lieberson], the singer of Teen, and Jen Goma [of Showtime Goma] played together. Shortly after they met, they became very good friends.
Vérité, a pop artist, and Kristine Kruta, a cellist who arranges and directs these classical shows, met through The Hum, and they went on to record a Live EP [2018's Bunker Studios Sessions, Brooklyn, NY] in the studio as a result of that show.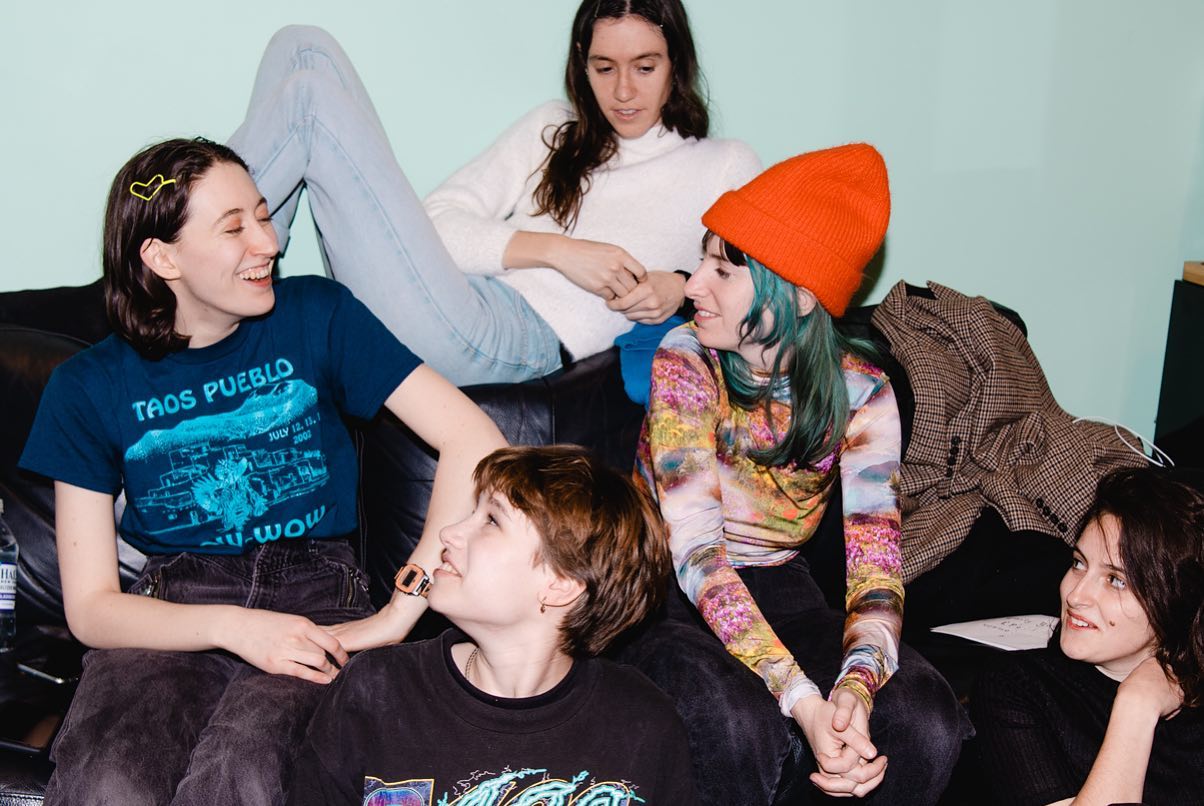 Part of your original idea for The Hum was to have visual artists collaborate with musicians. Is this something you are planning on doing in the future?
The very first time I ever did The Hum in April 2015 was when that was a part of the vision—for it to be an interdisciplinary meeting of the minds of women through video, visuals, and live music. I was only doing The Hum at Manhattan Inn for the first two years, and it was just way too small of a space and way too difficult to produce that interdisciplinary element.
In 2016, I started booking Le Poisson Rouge and was opened up to a bigger world of venues I could produce The Hum in. Then I started thinking about revisiting that interdisciplinary element. I did a show in January at National Sawdust—where we are a series in residence—with Greta [Kline] from Frankie Cosmos, Jilian [Medford] from Ian Sweet, and Emily Yacina. Instead of working with another musician, Emily decided to work with a painter named Emily Skydel. Half of Emily Yacina's set were songs that she had written in inspiration of some of Emily's paintings, and then the other half were paintings Skydel had created based on some of Yacina's music.
I'm also trying to bring in more dance into The Hum. My background is in dance, so I'd really love to have more musicians collaborating with dancers and choreographers. We did a little bit of that when we did our show at Pioneer Works in 2018; I had a dance company collaborate on a few songs with one of the bands. You also just have to have enough space to do dance.
Where do you imagine The Hum going in the next five years?
I want to grow a more robust community of artists who are women. I want it to be interdisciplinary. I'd like to be able to present shows in different cities. Probably the biggest thing I want to do is, I really want to be able to present more than just special one-off projects every once in a while. There are so many artists who don't live in New York that I'd love to present their album release show or when they tour through New York. I wasn't able to before because of the restriction on only allowing women on stage.
What factors do you think have contributed to The Hum's success?
I think women need a platform to talk to each other and to meet. I think that needs to happen in New York. There's so much going on all the time and musicians have the hardest life, all artists do, especially in New York. It's so expensive and hard to break through all the noise of everyone else trying to get their thing to rise to the top. There needs to be a space for collaboration and songwriting to happen. There's not really a platform for women to get together with an orchestra and have their music rearranged, reimagined and performed—let alone a platform where it's only women in the orchestra. I think creating that special moment for women is what has kept it going.
When you first started the series, did you imagine it going this far?
When I did this for the first time in 2015, I was doing this as a one-off idea. I did it out of that urgency of feeling like I just needed to do it, and I never thought more about it than that. It went so well and people asked, "When's the next one?" So I was like, I guess I'm going to do it again.
I didn't know at what rate to do them, because when I first started doing them,it was a whole month-long series in Spring and a series in the Fall. It would be every week, but it took a lot of energy and time and resources to do it that way, so then I just started doing them as one-offs.
What has organizing this series taught you?
It's taught me a lot about artists and their process—what they need and what they need that they don't ask for. It's our job as presenters to know what they need and to figure out how to get it for them. It's taught me a lot about community—how it's probably one of the only important things that exists in live music. It's taught me that I can do more than I thought I could do.
I had never really booked music before this series. Because of this series, I've gone on to book Le Poisson Rouge, a summer series at Industry City last summer, and the Bell House. This was my launchpad, so I'm really grateful for it.
Tell me a little bit about your fifth anniversary show—which is currently scheduled to happen on September 17, at The Sultan Room—and what you have planned.
Something that's important to me about The Hum is the idea of music discovery. I'm not someone who likes to go to a show and know every single band on the bill. I love discovering music through concerts by catching the opener or the support band.
I try to do that with some programming, to make it surprising and eclectic. I hope that this show is really fucking fun and is a party that provides a little music discovery for people. I'm presenting all different genres: jazz, performance art with a dance company, hip-hop. Xenia Rubinos is performing a bolero set with a Latin Orchestra, which is totally different from what she usually does. It's going to be over thirty performers. The fifth anniversary is probably the most ambitious show I've ever produced for The Hum.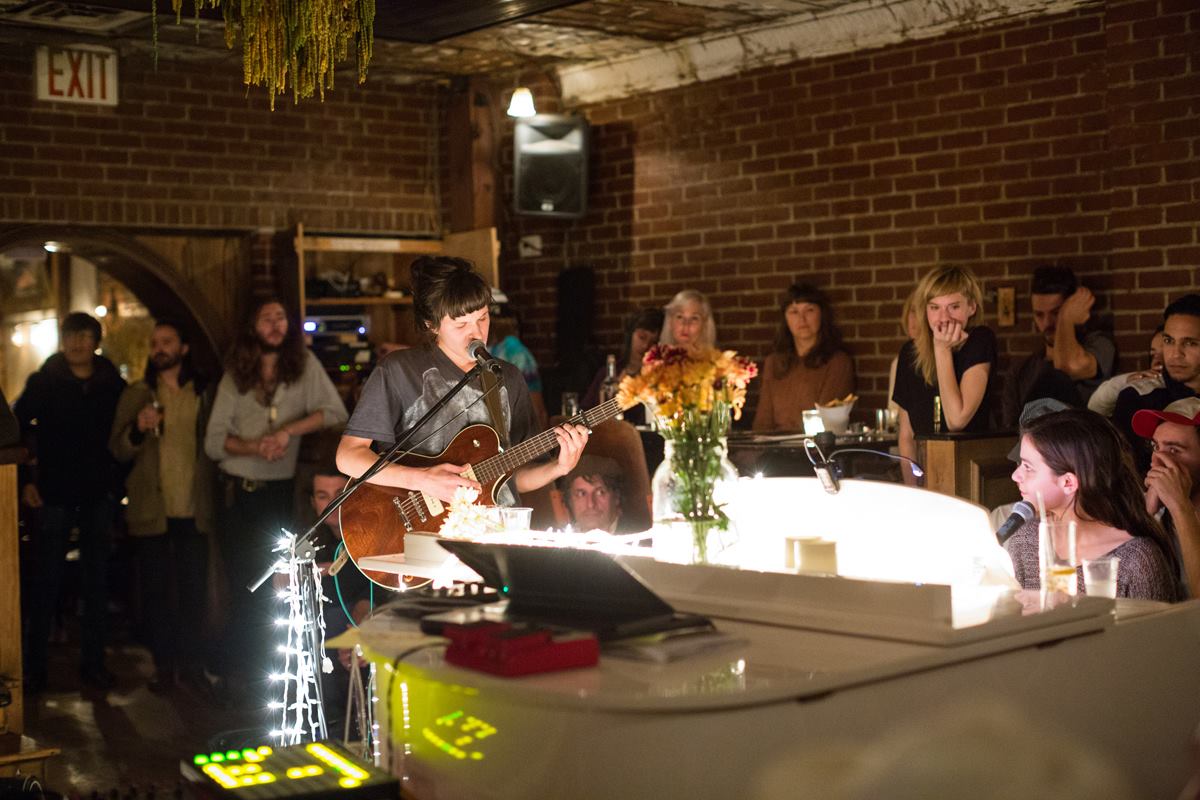 You've put on so many shows through The Hum. Are there any memorable ones that you are really proud of?
I remember a show I did with Adrianne Lenker from Big Thief and Alena Spanger that was at Manhattan Inn. Adrianne played some Big Thief songs for the first time, before the first record was out, and I remember the entire room sobbing and hearing sniffles the whole time. That was unbelievable. The show at Pioneer Works had Harmony [Tividad] from Girlpool and Ellen [Kempner] from Palehound. That was a really cool show—to see The Hum presented in such a different place. All these classical shows have just been so spectacularly special. To see an all-female orchestra reimagining an artist's work has just been very moving.