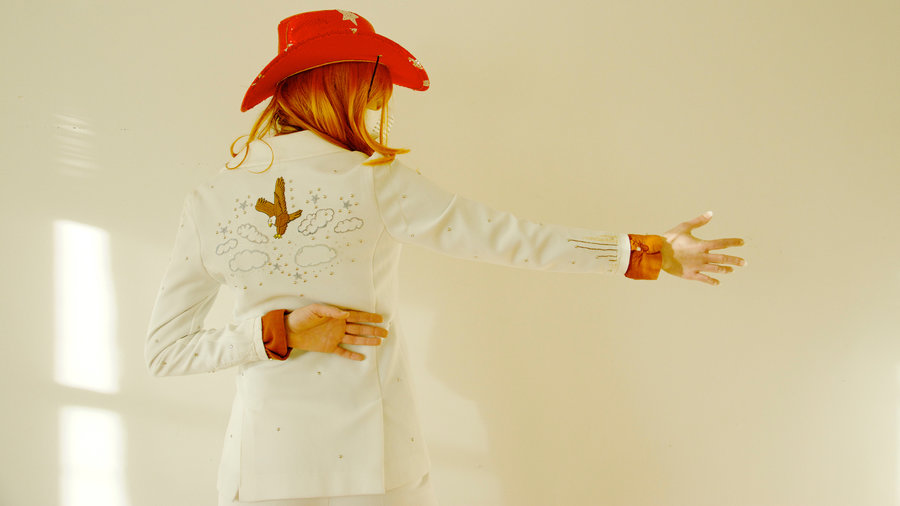 "Jump rope? I was like sixteen, maybe seventeen at the time? It was like ten thousand people watching," admits "Rock Outfit" Circuit Des Yeux (a.k.a. Haley Fohr), explaining how she came into contact with alter ego, the cryptohistorical bard Jackie Lynn. For those following the trajectory, Jackie Lynn marks a new development in Fohr's quest for transcendence—namely, the shedding of an externally-dictated reality for one filled with cocaine, electronically-tinged country music, and stardom. Thanks to Julia Dratel's official documentary on Jackie Lynn—which comes in the form of a montage of interviews, childhood sequences, eldritch Chicagoland wanderings, and the burial of a master tape in a nondescript wooded area—a bit of light is cast upon our mysterious heroine.
The Jackie Lynn story mirrors one more commonly etched in hip-hop—think of Daniel Dumile as MF Doom, Dennis Coles or Ghostface Killah as Tony Stark, Cassidy the Hustler vs. Cassidy the Problem—where an artist creates a character to flip the script, conquer trauma, or, at a minimum, try on a new part of themselves. Like those analogs in hip-hop, Jackie Lynn "took being a woman and made it into being a loaded gun," according to a character named Ka_ina Sort in the documentary. And In 2016, a time when the dialogue on being alive under duress of a passive-aggressive patriarchal system is at its most resonant and reaching, who could fault someone for becoming that? Who wouldn't want to be taken seriously as an artist, as a weapon? I know, Miss Lynn, that it's the threat of influence, and not the threat of violence, that makes you dangerous—you are a star. You're a star, you're a star, you're a star. You're a big, bright, shining star. That's right.
Jackie Lynn is out now on Thrill Jockey.