New York's Alright fully embraces the DIY ethos.

Adam Whites has no computer. For the past year and a half, the 26-year-old has managed to book the NYC punk fest New York's Alright and run his cultish hardcore label, Katorga Works, by other means. "Mothafucka's got an iPhoooone!" says Reed Dunlea, co-founder of the festival, now in its second year. His explanation has got a goofy tinge of glee to it, like many of the duo's statements, even when cynical. "It really sucks," Whites adds. "People are like… how do you do mail-order without a computer? I barely make it work." And yet, he appears to.
The restricted tech parameters seem all but fitting for the deliberately small-scale, DIY festival that he and Dunlea curate, featuring 34 underground rock bands, many of whom don't even have a web presence. As with last year's inaugural installment, this year's New York's Alright surveys the raw punk/hardcore scene in NYC—"the Greatest City in the World," per Reed—mixed with comrades from England, Canada, Sweden, Japan, and across the U.S. Reed, who also hosts WFMU's Distort Jersey City, say they've strived to make this year's fest more "comfortable"—as if hardcore ever could be—by trimming the length of its lineup slightly. The event will also feature a punk art market, an Easter egg hunt, and a Record Store Day event at Brooklyn's Heaven Street. They're considering documenting each set for a potential cassette tape release (if someone is on hand to record). Check out the schedule here.
The seeds of Adam and Reed's friendship were planted, of all places, surrounding The Pit. "I saw this guy with really dumb glasses moshing very slowly to a band, and I was like, who is this guy?" Adam told me last year on WNYU. "Then he moved in." They lived together at the Bushwick warehouse venue Stolen Sleeves, and they don't miss a beat when it comes to making fun of the West coast, Boston, Philly, or each other. It's the absolute best kind of endearingly bratty New York-centrism that a fest like this requires. They shit-talk their friends and tell me to keep it on the record. They incessantly scheme an MRR mailbox letter-war with Greg Benedetto of Toronto fest Not Dead Yet, which served as an inspiration for New York's Alright.
In the very unfit locale of an outdoor Williamsburg cafe, we spoke about the visual artists helping shape New York's Alright, its $20-a-night price-tag, and why NYC punks aren't as mean as you think.
AdHoc: What are some things you learned from last year that were helpful this time around?
Adam Whites: We got lucky last year — we made a $200 profit in the end [laughs] but at least we didn't lose money. This year, we're going to make money, which we're going to blow next year.
Reed Dunlea: We did not make a single dollar from the fest, so Adam is booking tours for the international bands.
When did you start booking tours?
Adam: The first legit tour I booked was Warrior Kids from France, three years ago. These old skinhead dudes from France. I've been booking contemporary bands since. People keep saying I should take a small cut, but I haven't. It's nice to help out my friends, and then it's easy to bring people here. Over the past two years I've been booking bigger and bigger punk shows, and none of them have failed. I'm pretty confident. In New York, 300 or 400 people might come to a show. That's almost enough to fill these venues.
What's the biggest show you've done in New York?
Adam: Culo, Perdition, School Jerks, Deformity, Inservibles, Lecherous Gaze. It was the first show I booked at 285 Kent and it was scary because I'd never done a place that big– it was twice as big as any show I'd ever booked. There were about 400 people there. It was daunting.
Who else is involved with the fest this year?
Adam: I reached out to at least half of the bands, all on my iPhone, trying to figure out how to contact people. My dad pays my cellphone bill and that's where I come in– so, thanks dad! Every year he's gonna get a shout out for paying for everything.
You mentioned that Dan O. from the Acheron is the stage-manager.
Reed: My role in this fest is pretty meaningless. Adam's role is fairly– you know, he's good at texting. But we really wouldn't be able to do this without Dan O. He is the person who makes shit run on the ground. Ian Dickson is still the godfather of NYC punk booking. He hasn't taken on as active a role this year.
Adam: He's like busy– getting married or some shit.
Reed: Ian helped us a lot the first year with the bigger venues. He still gives us advice.
Is there anyone involved who has been especially helpful, or has surprised you?
Adam: Some people in local bands might not care that they're playing, which is fine. I appreciate that they're at least doing it, and not disappointing people. But there are certain people who are endlessly enthusiastic. Anasazi is really excited; they're doing a special performance, which makes me feel really good. People here don't always express how grateful they are for their friends– I'm guilty of that. Also, Marc Grillo, a legendary Park Slope native, has been very helpful.
Reed: He scanned lyrics to send to ABC No Rio. They still demand lyrics, to make sure there's no right-wing or racist shit in them.
The shows are $20, which is sort of expensive. Do you think people are willing to pay because they feel like the festival is important?
Reed: People understand that this happens once a year, and that every single band on this fest is gonna bring it hard. Also: we're fucking punk kids who do DIY shows. Everyone knows we're not raking in any cash on this. The bands are gonna get paid well. It's important to make people not go broke in order to play music.
Adam: All of this "only rich kids can afford the shows" shit– fucking just don't buy beer for one weekend. Some show-goers are a bit entitled and don't think locals should get paid. That's bullshit. Locals should get paid. This goes for any show. I pay local bands at every show unless they're willing to sacrifice their money for like the greater good of the touring band. Locals are the backbone of this fest. Especially in New York, bands spend so much money paying for cabs to and from shows, and paying for their practice spaces…
Reed: You definitely lose money being involved in punk. Shouts to anyone putting bands up, which is literally everyone who goes to shows in New York.
Adam: Someone put Omegas up, please!
Adam, you didn't work at [Bushwick heavy music store] Heaven Street last year. Has that helped you logistically in any way?
Adam: Totally. It's good to have a home base; bands are getting their records and gear shipped to Heaven Street. For a while, 538 [Bushwick punk venue] was my label's home base. Reed might not agree with me, but 538 has changed a lot in the past year and a half. It's not what it once was. We're having a big Record Store Day thing at Heaven Street– really rare punk shit you'll never see again—on Saturday at noon.
There are obviously many punk scenes around the world currently– New York's Alright captures a specific element of that.
Adam: Hype bands.
What punk communities does New York's Alright represent?
Adam: The definition is broad, but hardcore punk is what we're going for. DIY is important. We don't book bands that have publicists or booking agents. Just bands that are on our level.
Reed: It's a very specific international scene and touring circuit. We don't book reunion bands, we don't book big bands, we don't book bands who wouldn't already be on tour or playing DIY punk shows. That's why it's cool.
Adam: The only old band playing is Inmates and they have a new LP coming out.
A lot of my friends, for example, were at Smash It Dead in Boston a few weekends ago. Many people would refer to that as a punk fest, but it's obviously an entirely different community of bands and ideas.
Adam: And a different goal, and purpose. There's an explicitly political aspect to Smash Is Dead, which is not necessarily absent from New York's Alright, but it's not focused on. I wouldn't say that New York's Alright is an apolitical fest. A lot of people involved would be upset if you called them apolitical. Myself included.
Reed: A lot of the bands have political lyrics, too.
Adam: New York's Alright is very East Coast.
The political aspect can be there, without being physically manifested on a table of zines…
Reed: We're still all punks, and that has a certain subversive, anti-capitalist, anti-mainstream political bent… however explicitly it gets manifested. It's always gonna be there.
Adam: I find it funny that zines are the be-all end-all of the punk-political mind. They're great maybe as a starter for young kids, but I view zines as being somewhat apolitical.
Reed: There's going to be a lot of voter registration. [laughs] I've never missed an opportunity to vote Green in an election. I used to do environmental activism stuff, and labor and third party activism.
I think New York's Alright is unique in how aesthetically driven it is. There's obviously a strong visual element to the festival. And there are enough artists involved to warrant a punk art market on Sunday at The Wick.
Adam: The New York punk scene is very aesthetically-driven. It has a very unique style. This is a very New York fest. At least a third of the bands have to be local– that's a rule. People come here to see the local bands, which we realized last year. We were asking all the Europeans who they came to see– Hoax? Glam? Stagnation?– and maybe they were just flattering us, but they all said Crazy Spirit! Hammerheads! Dawn of Humans! That's crazy.
Reed: Our scene is into records– the music, but also the fucking sleeve and art. It's definitely visual.
What defines NYC punk visually in 2014? And in sound?
Adam: It's a really negative attitude that says– we're here, we're not going anywhere. We kind of hate our city, but like, that's the way it is.
Reed: At the same time, there's a lot of hometown pride. A lot of the kids making punk in New York are from New York.
Adam: Most of the bands on the fest are New York natives. It's this beast that hasn't slowed down. 2013 was a transitional year. There were no huge New York releases. This year there are going to be tons. The La Misma 7″ and Warthog 7″ already came out. Anasazi LP, second Hank Wood LP, Murderer LP, the U.S. pressing of the last Perdition 7″, Ivy 12″, Creeping Dose 7″, Lotion 7″, Vanity LP. This is all stuff coming out this year, just off the top of my head.
Reed: Missionary 7″ is dropping hard.
Adam: Maybe people outside New York were like, "Duhhhhh, do people still like Crazy Spirit?" Crazy Spirit plays New York and 300 people come out. They're putting out a new demo soon. Crazy shit is happening. It never died down here. Oh, the new Goosebumps 7″ is about to drop!
Reed: Just in time for Ray to move to California and the band to break up.
It's cool that a lot of bands involved are actually from here. In other New York scenes, that's not the case at all.
Adam: No one's moving here to "make it" in punk. People are moving here to "make it" in the indie world, and that's why it's bullshit. You come with this idea of what you want to take from the city, and not what the city can give to you. Whereas, these people are here watching their city be taken from them. But they have no choice but to stay here. No one's moving. I've lived here for almost 10 years, and I don't know where the hell I'll ever live other than New York. I do not get along with people very well on the West Coast. Everything here is too abrasive for anywhere else. And I can only imagine, for people who are born and raised here, how they would fare in like San Francisco. It would not go over well.
Who did the main poster for this year's fest?
Adam: Sam Ryser, from Crazy Spirit and Dawn of Humans and Murderer. He is not only artistically one of the focal points, but also musically.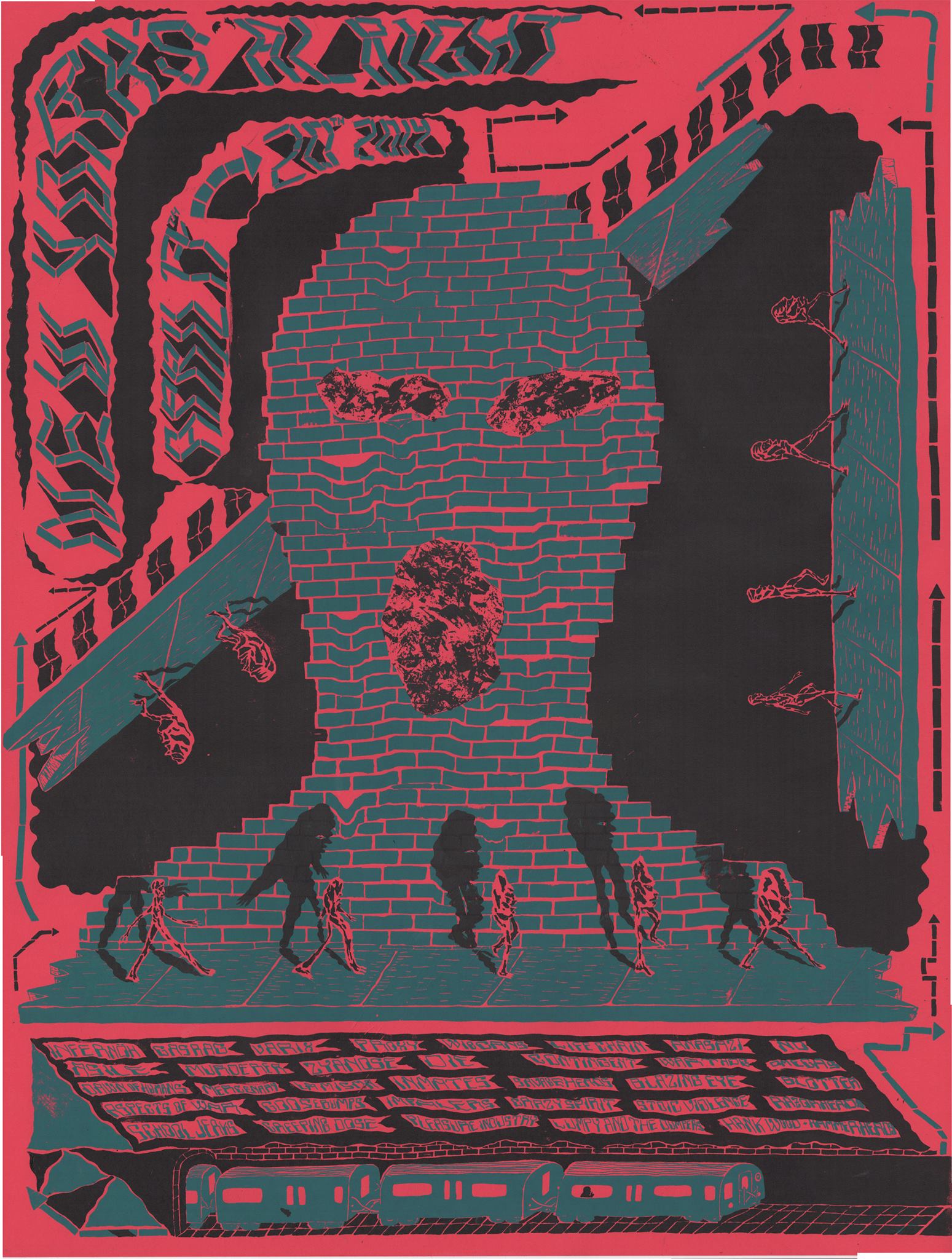 A renaissance man.
Adam: It's an insane piece of art. Sam's from Brooklyn– his parents were in an awesome band. He's not living in the digital world; he's had the same AOL email account for over 10 years.
The visual contributions are important when thinking about the totality of the current moment for New York punk, in general.
Adam: This scene is visually represented by five or six artists, a small handful of people in bands. The dude Eugene Terry did the main flyer last year– he's my favorite. Alex Heir has got a lot of shit out now because people are hitting him up constantly. But he saves his best shit for New York. Heather Benjamin just moved to Providence, but she did a flyer. Jess Poplaski's flyer is amazing.
Reed: Jaybo did a flyer—from Hoax and Fucked Up Hidden World fame. He also had to make a Gmail account in order to send me his flyer through Google drive. When his new band Moron played Lulu's a couple weeks ago, he was trying to literally hand it to me, because he didn't know how he was going to scan it. He lives in the woods in Western Mass.
Adam: Shiva [of Deformity] did the subway flyer for the Thursday night show.
Reed: We fortunately didn't have Mateo [of Warthog] doing a flyer this year. That's something we learned last year– don't ask Mateo to do a flyer.
Adam: My dad saw Mateo's flyer, and he was like—
"I can't believe I paid for this…"
Adam: Yep, that's what he said.
Good Throb, from London, is playing New York on Friday night. Why isn't that part of the fest?
Adam: Uh, ask Reed and Mike. [disdainfully] I wanted them to play.
Reed: Now I've actually listened to them and really like them– at first I was like, "Who is that?" And Adam said, "Is your head under a rock?"
[Adam spits 15 feet and causes a commotion.]
When Belgrado and SECT, from Barcelona, had to drop off, it felt like there was only one band left on the lineup with women playing.
Adam: I believe there's four, which is still not much– when Belgrado and SECT had to cancel, it was like, there goes a third of the bands with women in them, fuck. We didn't do a good enough job this year, and that's one of the few things that needs to be corrected for next year. We don't want to tokenize and put a band on just because there's women in it. But, at the same time, there are enough quality bands with women in them. We can have more. There's a bunch of women doing flyers, and women helping out with driving and other stuff.
When you do a festival like this, it's obviously going to generate more attention than your typical punk show.
Adam: I'm not above Googling "New York's Alright 2014" and seeing who has written about it. No one really cares, is what I've determined.
Have you considered who you allow to cover the fest, or who you give interviews with?
Reed: We have given out one press pass for New York's Alright, and that goes to Nuts fanzine. We like the idea of having a cool newspaper zine talking about whatever the fuck happens.
Adam: I would never be into, say, Vice, or something that profits off of lifestyle, exploiting underground music scenes like an advertising firm. Aside from that, I am willing to speak to almost anyone. We turned down The New York Times last year.
Reed: Press is interesting. Everyone has their opinion…
Adam: "What we do is secret."
Reed: Don't put the address– think of who will show up– blah blah blah. But sometimes, take your head out of your ass. You are living in this fucking society. You're not moving out into the woods. You're doing things and people are paying attention. Do you want to be in control of that situation or not?
Adam: Reed brings up an interesting point—the more tangible aspects of, say, addresses being published, or people who you don't like showing up to your shows. That is a legitimate fear. Honestly, if a bigger periodical wrote about New York's Alright, there aren't that many people who would come. They'd read about it and be like, "Oh that's silly," and not come.
Reed: But there's certain outlets we wouldn't engage with– because maybe people WOULD come… And we don't necessarily want like [points all around to Williamsburg] THIS at our shit. We are ANTI-this– where we are right now… we are literally fucking here.
Adam: I've taken to reading Brooklyn Vegan and Pitchfork everyday. It's crazy how the word "punk" is used in almost every review. The word is losing its meaning. But, I don't care. What I am doing is going to continue being what it is.
It's like capital-P punk versus lower case-p punk, I think. They're different.
Adam: That's true. I read those pseudo-mainstream periodicals, to see where stuff I'm involved with gets mentioned. I find it fascinating. Ivy got mentioned in this [Pitchfork] column—that's funny. I love reading about Milk Music, and Merchandise. It's a weird world. I'm not one of those people who's like, "Fuck them! They can't speak about what I do!" Who am I to stop them? On top of the fact that, I actually don't find it that wrong.
Was New York punk specifically a formative thing for you?
Reed: Ya ever listen to a little band called the Ramones?
Adam: I wouldn't call myself a NYHC guy– you don't look at me and go, "Oh that guy is jerkin off to Antidote all the time." But, sometimes. I love Cro-Mags.
When people come here from out of town, for the fest, what do you tell them to do?
Adam: Don't go to vegan diners. Go eat in Queens, explore Southern Brooklyn. There's more to New York than Williamsburg and Bushwick.
Reed: I had the best torta I've ever had in the city yesterday in Sunset Park. If anyone's reading this and you're you're really into dancing, hit me up. I go dancing like every night.
People often describe this facet of current New York punk as an exclusive scene…
Adam: It is.
…where there are bands who play shows for people in other bands, and they don't really want other people there.
Adam: One of the main complaints with the New York punk scene is that it's very insular and people aren't friendly. Which is not entirely true– I think I'm very friendly. Chi from Anasazi is the friendliest dude. He doesn't give a fuck who's cool or not. As long as you're vaguely punk– and I mean punk in terms of caring about music, not the way you look– then he will talk to you. There are other people like that. At the same time, if that's your main complaint about the New York punk scene, then why are you going to shows? Are you going to shows to make friends? Are you going to this fest to make friends? That's bullshit. You should be going to see bands. Who cares if there's a bunch of our stupid-looking friends with their dumb hair and their stupid tattoos and too-tight pants who won't talk to you? Just stand away from them and watch the bands and have a good time. No one's like, mean-mugging you. No one's gonna kick you out.
New York is cold.
Reed: Everyone's rude on the fucking street. That's the whole point of this fucking city — being rude. So shut up, deal with it. If you are into this music in anyway, we want you here. We just don't want people to come who listen to shitty music or act a fool or whatever. See you in the pit.
Adam: People take notice when someone comes to shows regularly and does their thing and buys records. Just don't be stupid and wild. People are also afraid of the violence that has broken out in the past. But there's only a fight every six shows now, which is much better than five years ago! When it was a fight at every show. No one wants to fight. Maybe a few people, and that sucks. Just go to have a good time, and be positive… as stupid as that sounds.