Whether you're going to SXSW or not, we've got you covered.
Ahead of our SXSW Free For All showcases this Thursday, Friday, and Saturday at Cheer Up Charlies, we made three playlists featuring day-by-day staff picks.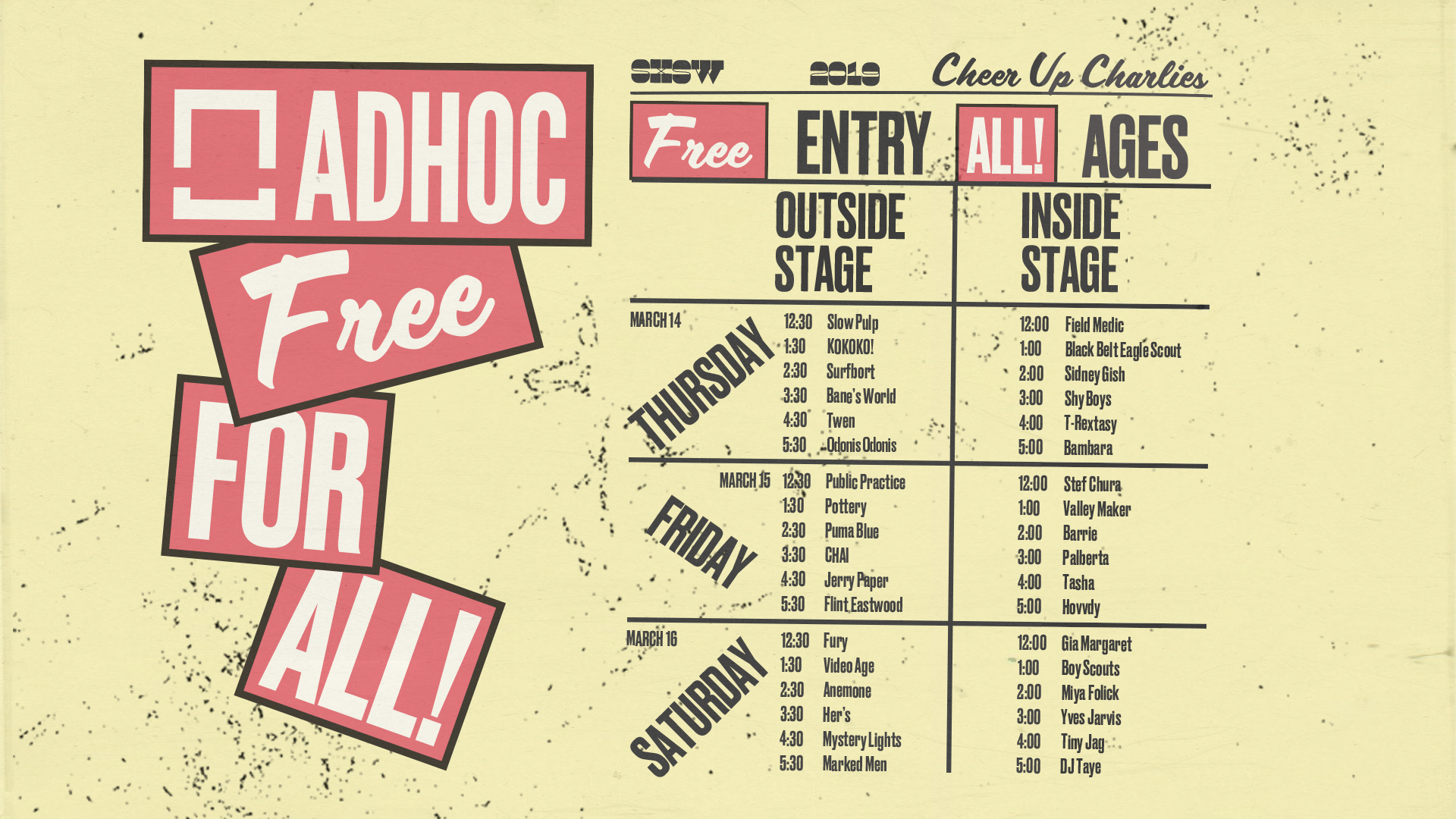 On Thursday, revisit the terrors and joys of adolescence with T-Rextasy's campy ode to pimples, "The Zit Song," and Sidney Gish's phosphorescent romance tale, "Not But For You, Bunny." On Friday, groove to Public Practice's existential, math-rock jam, "Foundation," and Flint Eastwood's moody pop epic, "Queen." And on Saturday, check out Miya Folick's sugary synth banger, "Freak Out," and Tiny Jag's hypnotic rap vignette, "Plug Doll."
See the full the playlists here, and RSVP to our showcases here.
Thursday, March 14
Slow Pulp – "Preoccupied"
KOKOKO! – "Tongos'a"
Surfbort – "Slushy"
Bane's World – "You Say I'm in Love"
Twen – "Damsel (Live)"
Odonis Odonis – "Collector"
Field Medic – "Henna Tattoo"
Black Belt Eagle Scout – "Indians Never Die"
Sidney Gish – "Not But For You, Bunny"
Shy Boys – "Something Sweet"
T-Rextasy – "The Zit Song"
Bambara – "Monument"
Friday, March 15
Public Practice – "Foundation"
Pottery – "Lady Solinas"
Puma Blue – "Midnight Blue"
CHAI – "N.E.O"
Jerry Paper – "A Moment (Heldago Negro Remix)"
Flint Eastwood – "Queen"
Stef Chura – "Method Man"
Valley Maker – "Beautiful Birds Flying"
Barrie – "Darjeeling"
Palberta – "Roach Goin' Down"
Tasha – "Kind of Love"
Hovvdy – "Easy"
Saturday, March 16
Fury – "Angels Over Berlin"
Video Age – "Lover Surreal"
Anemone – "She's The One"
Her's – "Under Wraps"
The Mystery Lights – "Someone Else is in Control"
The Marked Men – "She Won't Know"
Gia Margaret – "Birthday"
Boy Scouts – "My Orchids Are Dying"
Miya Folick – "Freak Out"
Yves Jarvis – "Fruits of Disillusion"
Tiny Jag – "Plug Doll"
DJ Taye – "Trippin'"
Listen to the full playlist here: