We've assembled a list of genreless designers and illustrators of color to collaborate with for all your music-related visual needs.
Being a mindful consumer in the music industry goes farther than seeking more BIPOC musical artists to listen to. BIPOC visual artists, too, play vital roles in the community. From album covers to merchandise to online content, visual artists increase engagement and excitement surrounding music. In addition, musical artists must rely on compelling visual branding to promote and communicate their work.
Online campaigns such as Where Are The Black Designers? and Black Girls Illustrate remind us how exclusionary the design industry can be in regards to visual artists of color. Unsurprisingly, the 2019 Design Census reported the design industry is overwhelmingly white (and straight). While 13 percent of the US population are Black, only 3 percent of established designers in the industry are Black. The same discrepancies can be said for Indigenous and Latinx people, as well: 1.5 percent of the population are Indigenous while less than 1 percent are industry designers, and 18.5 percent of the population are Latinx while 8 percent are industry designers. Artists of color often aren't invited into the profession in the same way as their white counterparts are, who are more largely represented in popular media and more likely to have had early access to information about creative professions.
Another issue at hand is the gap in resources and access to commissions: the freelance industry is set up to highlight people with a wealth of connections, equipment access, and time/energy to devote to their craft, which are often not privileges afforded to people of color. Thus, artists of color are likely to find difficulty in finding clients to be commissioned by in the first place, not to mention facing unfair pay discrepancies that lead to their work being undervalued and without proper attribution, further leading to lack of exposure. While many online organizations such as Rememory Directory, Design Can, and Hire Black Female Creatives exist as resources to eventually bridge the gap between representation of white designers and designers of color, clients must put in extra effort to actively research independent artists outside of existing networks if they wish to commission non-white artists.
Needless to say, many visual artists of color with exceptional skill sets in the world of graphic design and illustration require elevated recognition for their talent while the industry still pushes BIPOC creatives to the margins. Though working with BIPOC creatives creates a small change, using your platform to help promote their work can create a valuable impact. Not to mention, as a musician, diversifying your album covers, show flyers, music videos, and artist/organization logos plays a vital role in dismantling racism in the creative community.
If you have more suggestions for BIPOC visual artists who you think should be featured, please email us at editorial@adhoc.fm.

1. fiveboi – NYC (they/them)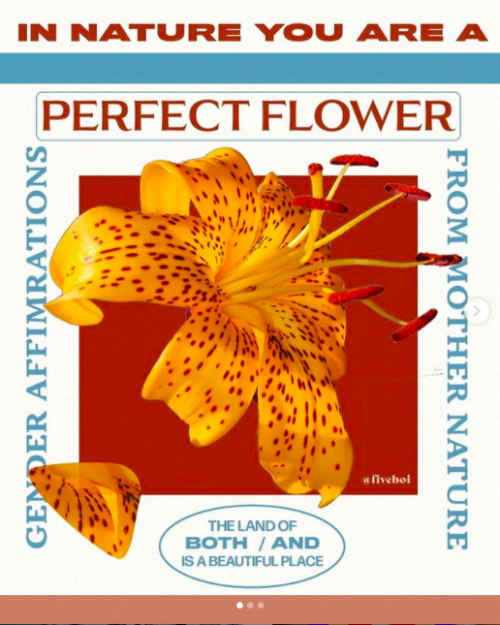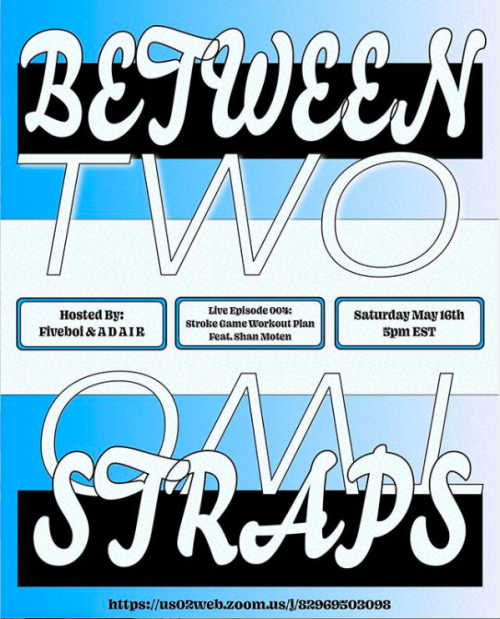 Utilising a sense of warmth and humanity, fiveboi seamlessly combines contemporary typography with DIY-esque layering to create informative, yet celebratory, graphics. Fiveboi is a Black non-binary trans-masc person who is open for commissions of any sort, though they have recently been concentrating on social justice advocacy in their projects, and could thus be a good candidate to commission for your next fundraising e-gig or album compilation cover.
2. Annika Izora – NYC (they/she)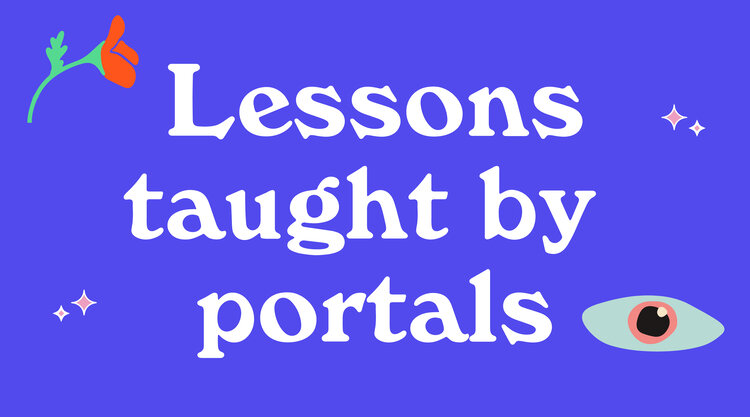 A queer Black art director currently based in Brooklyn, Annika explores themes of community and afrofuturism in their bold, playful, and unapologetic visual artwork. Often working on visual campaigns for companies, Annika would be an exceptional artist to commission for any organization branding or band logos/site design alike.
3. Krustboy – CA (he/him)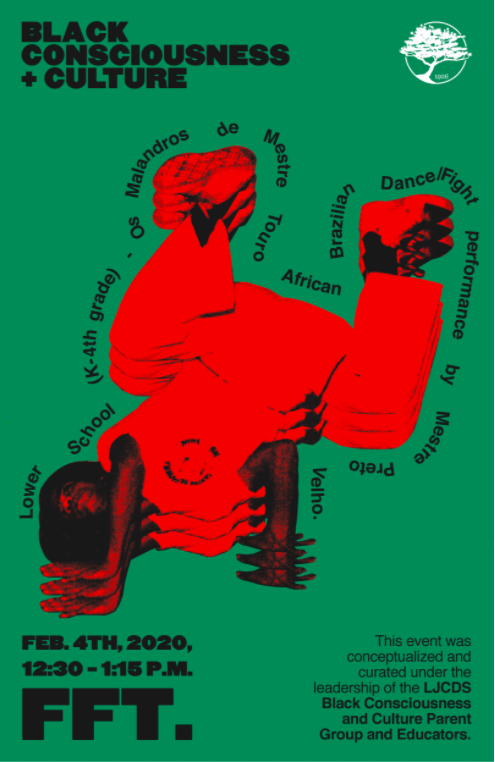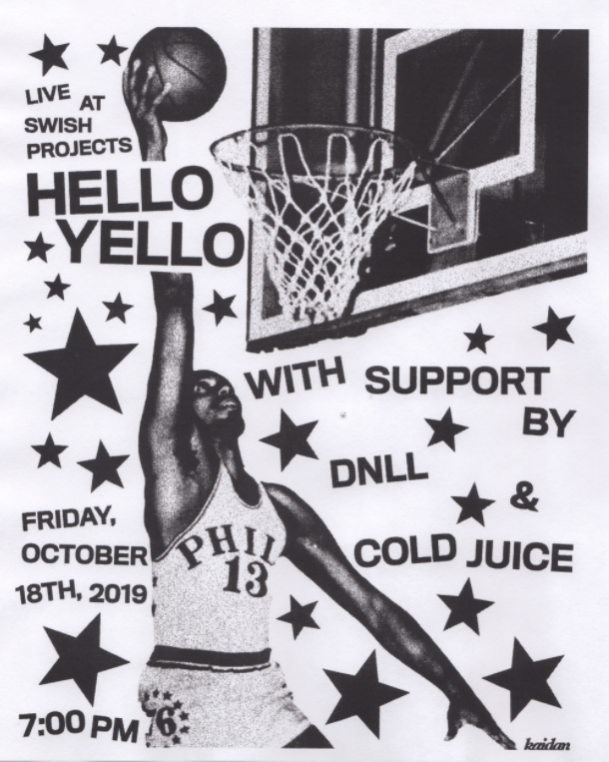 Kaidan Pascua's half-90's-zine, half-abstract-collage style attracts that of true DIY visual aesthetic admirers – especially in the indie music scene. Pascua has an established grungelike show flyer style, wherein he imitates the style of traditional analogue printing techniques and creates a digital cut-and-paste image. He would additionally be an interesting collaborator for album artwork.
4. Nikko Gary – NYC (he/him)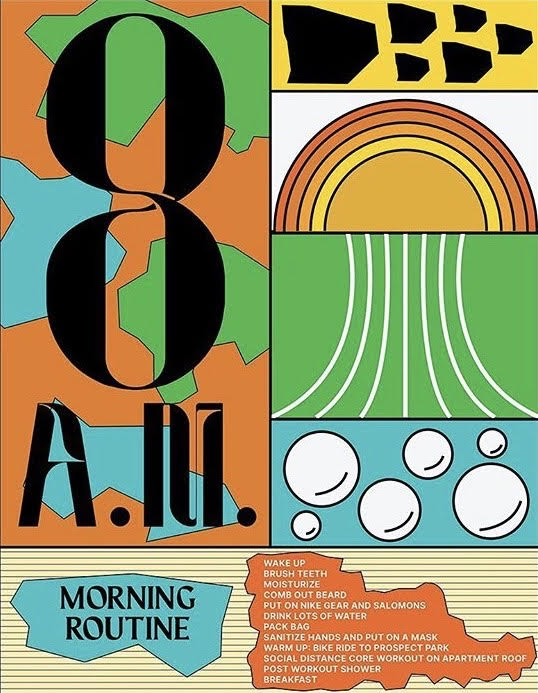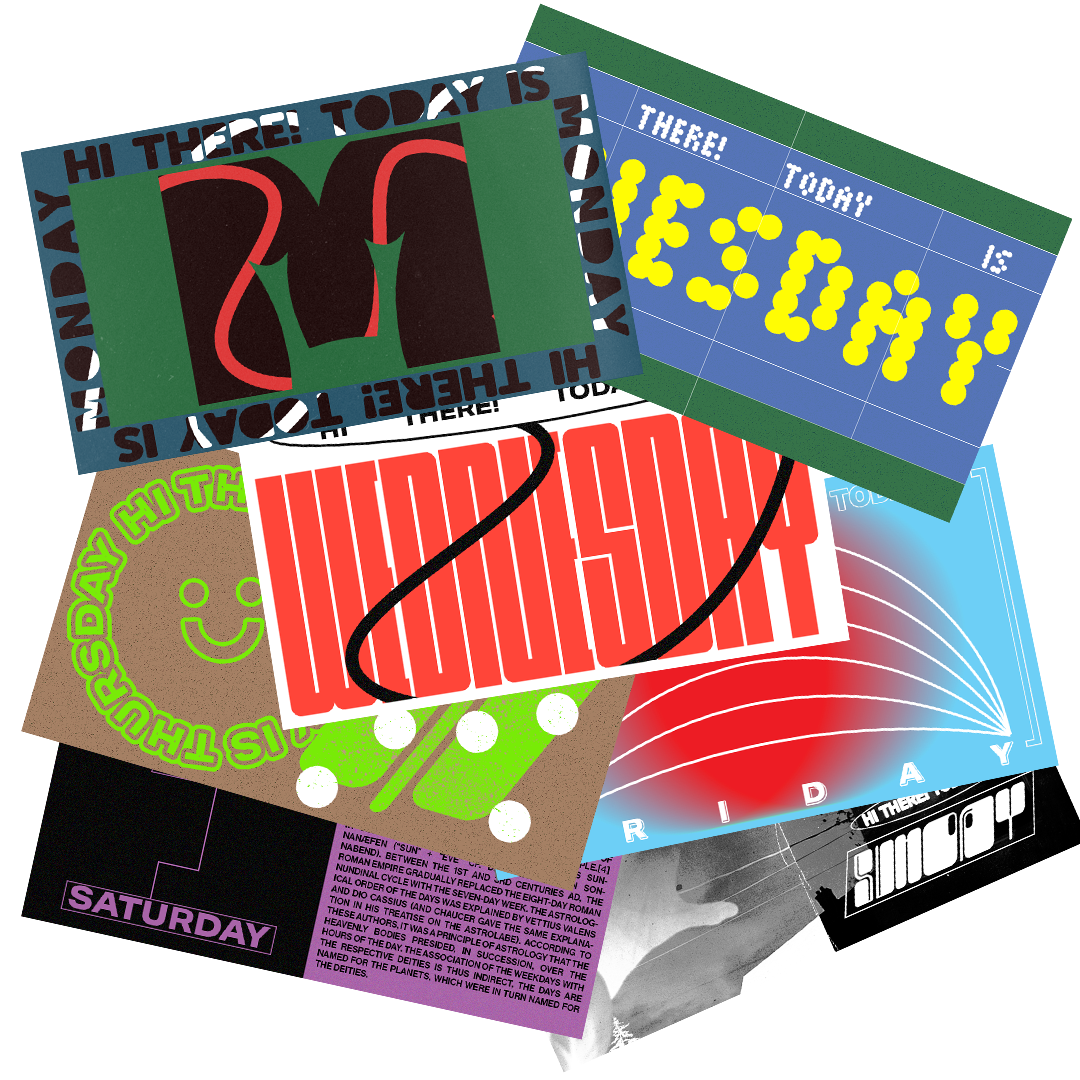 Nikko Gary mainly focuses on contemporary typography to create alluring visual graphics, interweaving twists and moments of pasted-togetherness into an overall clean demeanor. Gary is interested in being commissioned for future show/events assets especially, though would be an engaging artist to work on typography design for album artwork and merch design as well.
5. Emulsify – NYC (they/them)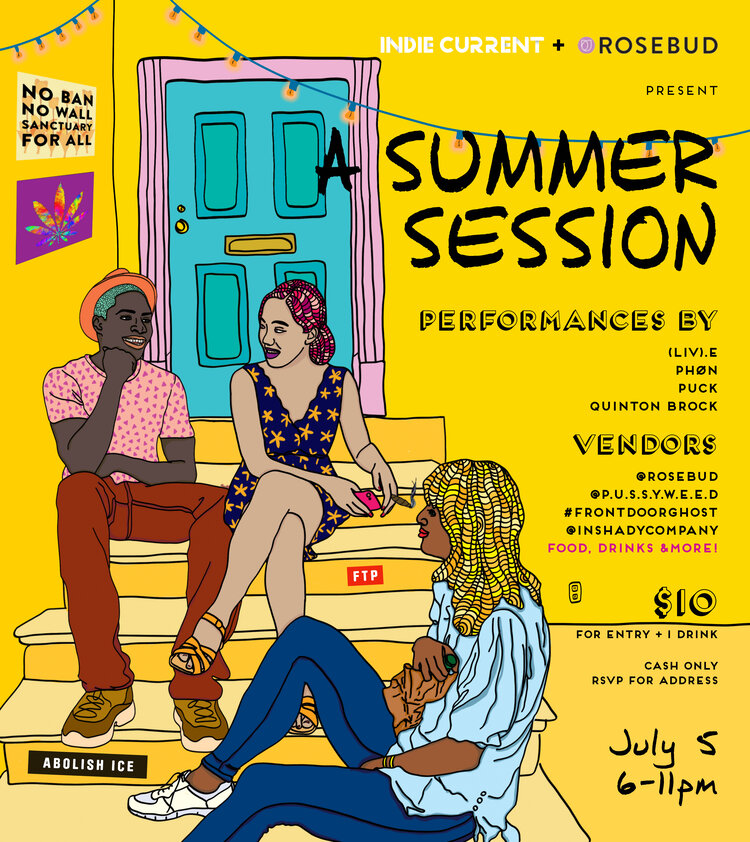 A Brown genderqueer cultural worker and organizer, Emulsify's crisp and vibrant designs put likeable characters with readable expressions into lightly psychedelic environments to generate an overall inviting scene. They focus on illustrating people of color, using simple text design to communicate event information.
6. Marius Marjolin – RI (they/them)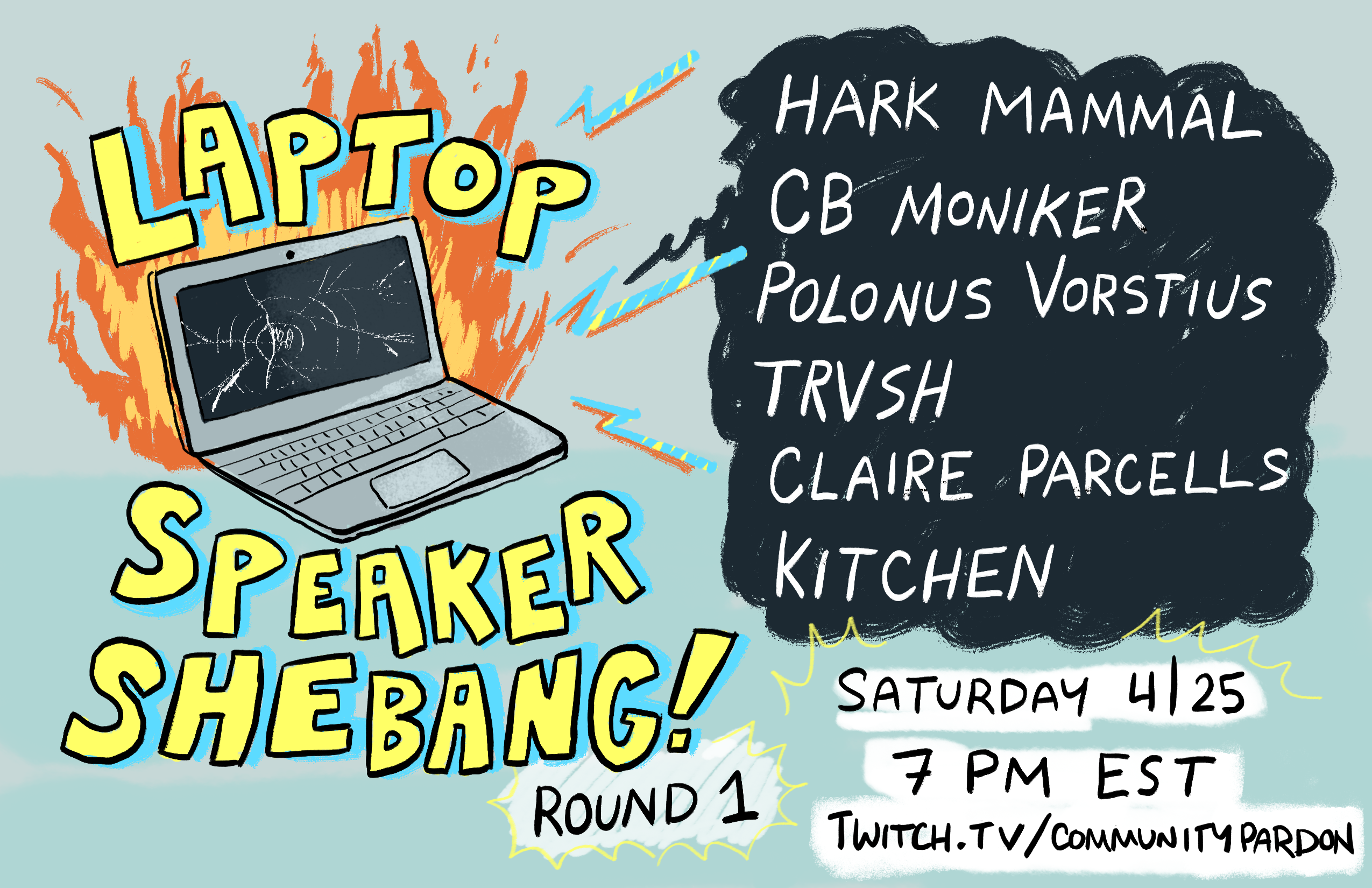 Marius Marjolin has a clear presence in the DIY music community in Rhode Island, and thus has plenty of experience illustrating local musicians (more recently, e-gig illustrations). Their off-beat, digital sketches and animations invite viewers into an inclusive event space. They are currently open for any sort of commission.
7. Mia Saine – TN (she/her)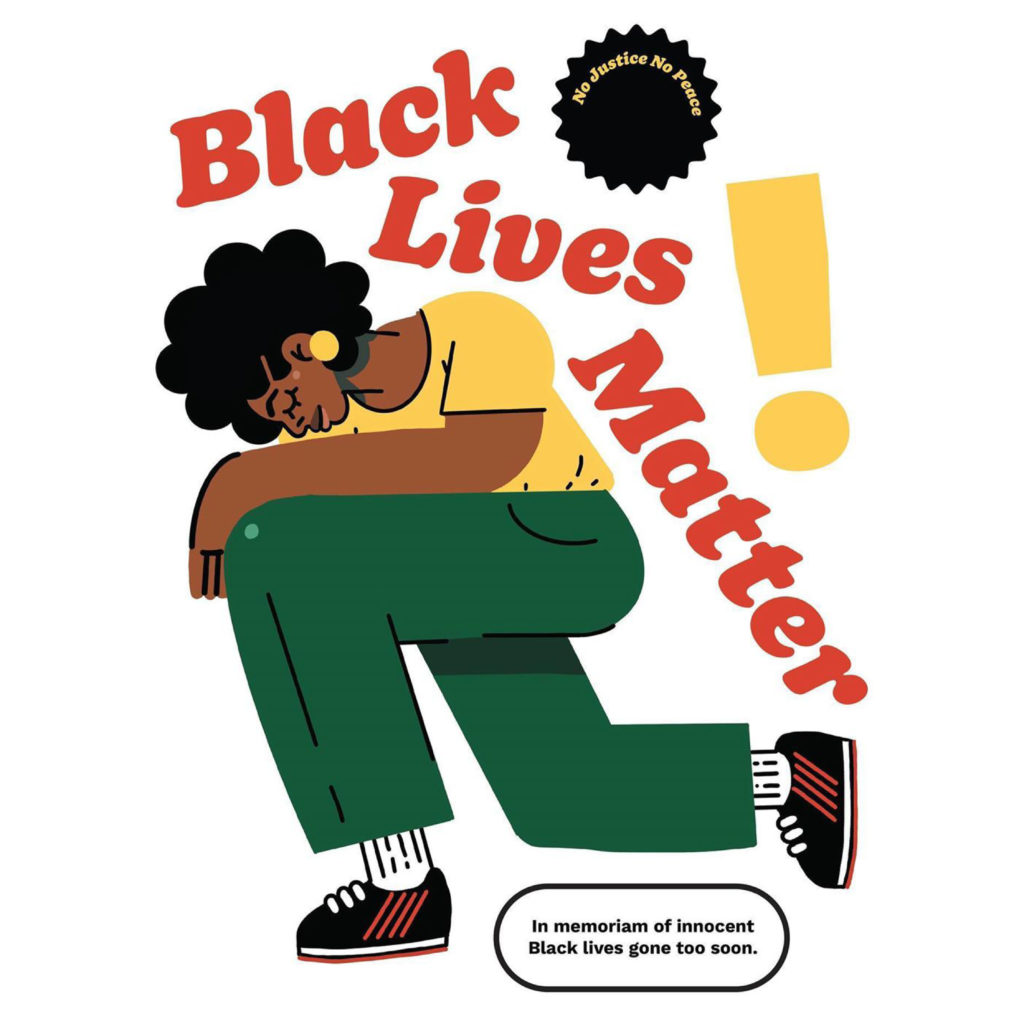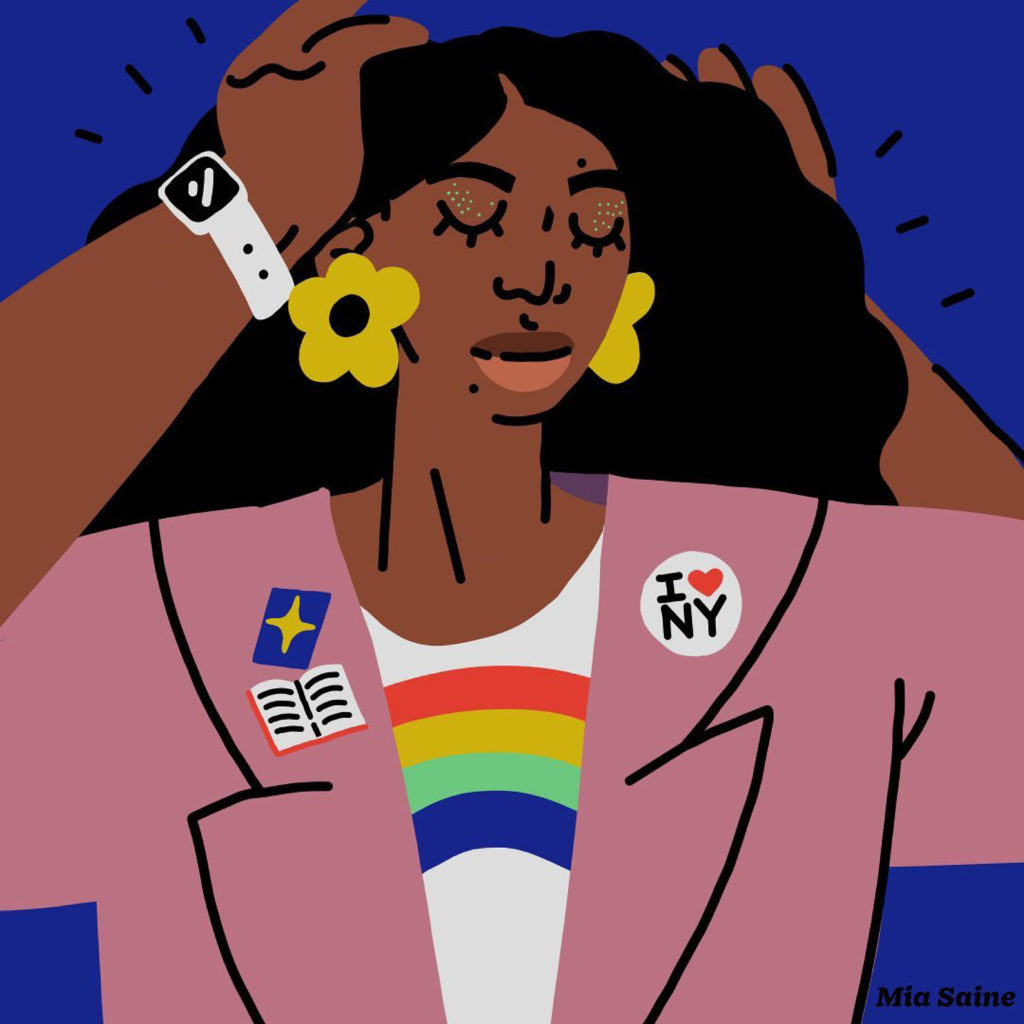 With her development of playful, simplistic characters, Mia Saine's lively portraits of empowered Black femmes provide an irresistible charm. Their commissions are currently open for November and December, so you must plan ahead if you want to work with them. She'd be great for an avatar for your Instagram icon picture, or maybe even to design your merch or album cover.
8. Maria Rodriguez – OR (they/them)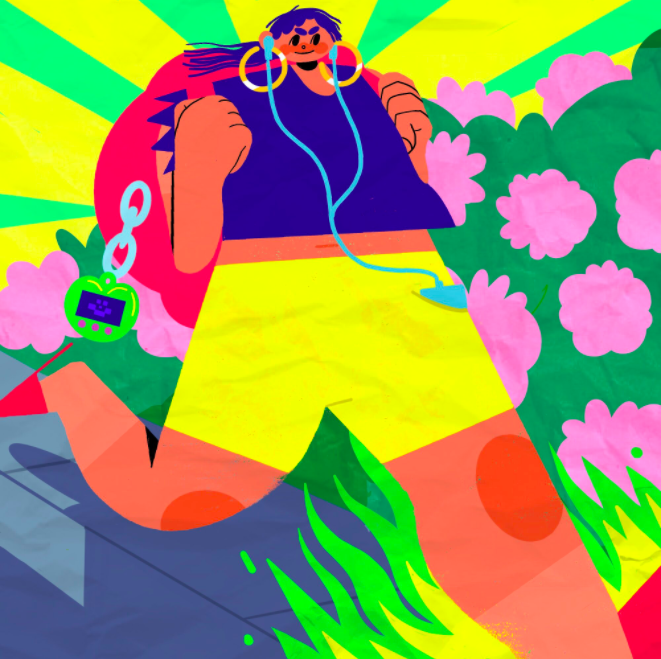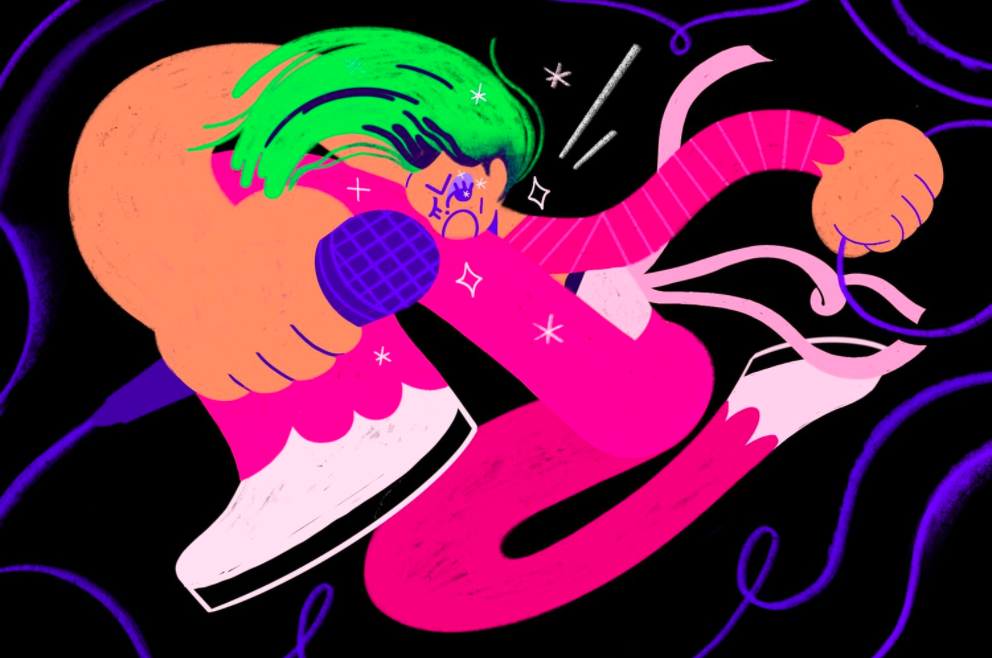 Maria Rodriguez's illustrations typically feature that of a disproportionate person with exaggerated body gestures to showcase emotions. A sense of freedom and randomness combined with color, hope, and positivity create an overall charming and inviting image. Commissioning them for album covers and social media content would be especially exciting.
9. Raver Jinn – NYC (they/them)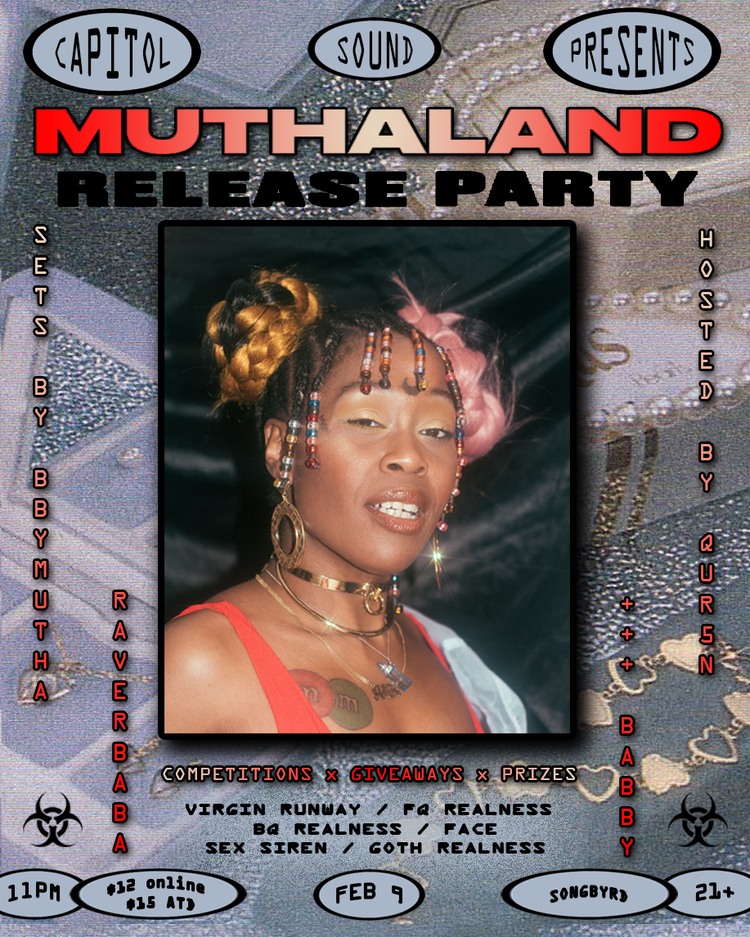 Raver Jinn's atmospheric, experimental and visually dense digital designs are most appropriate for those seeking futuristic aesthetics. Using gradients, orb shapes, and warped text, Jinn's expansive experience creating show flyers (for techno artists in particular) makes them an easy recommendation for those looking to commission an artist of color for techno gigs and artists, and perhaps even a merch designer for those interested in selling darker-colored apparel. 
10. Kris Harris – NYC (he/him)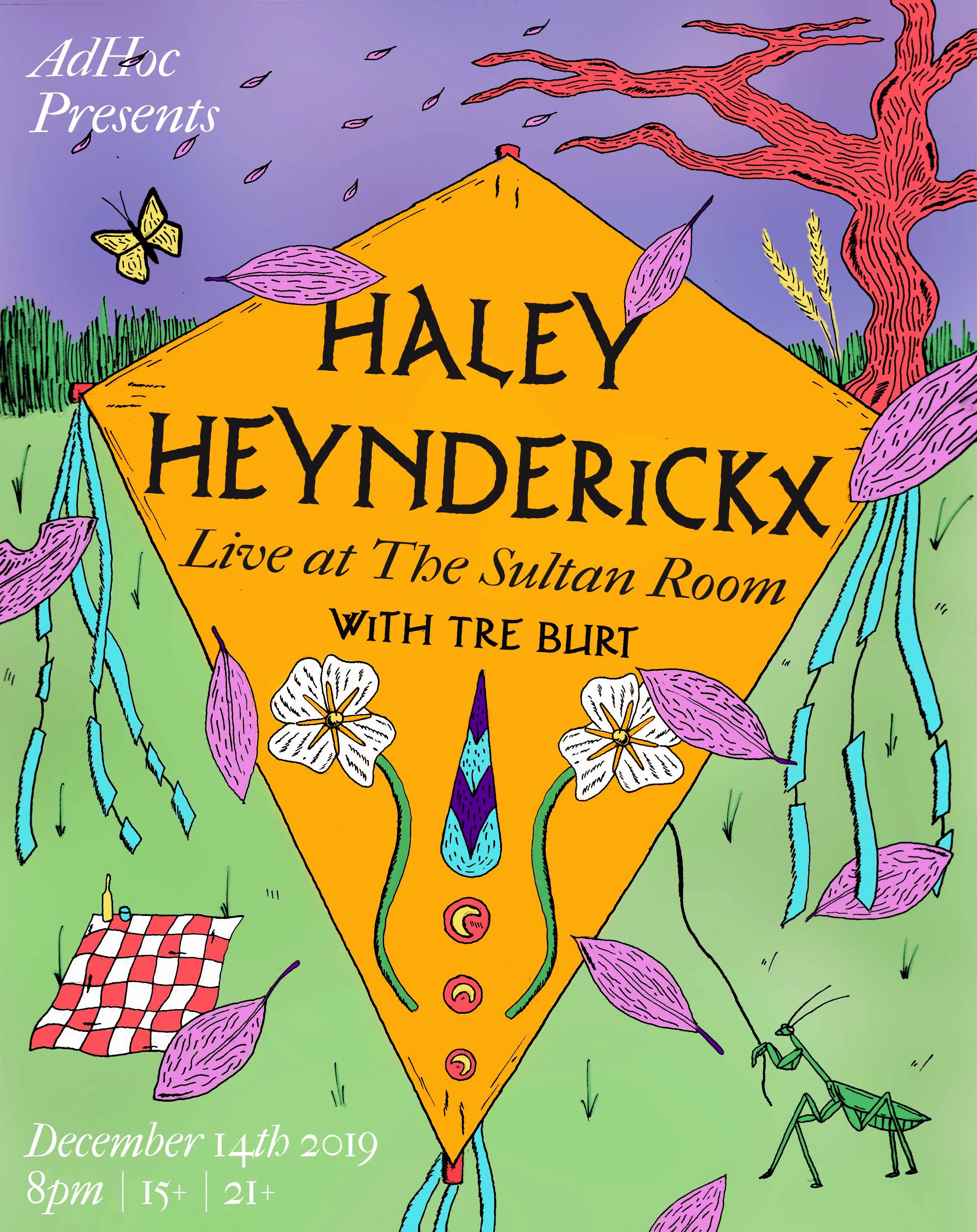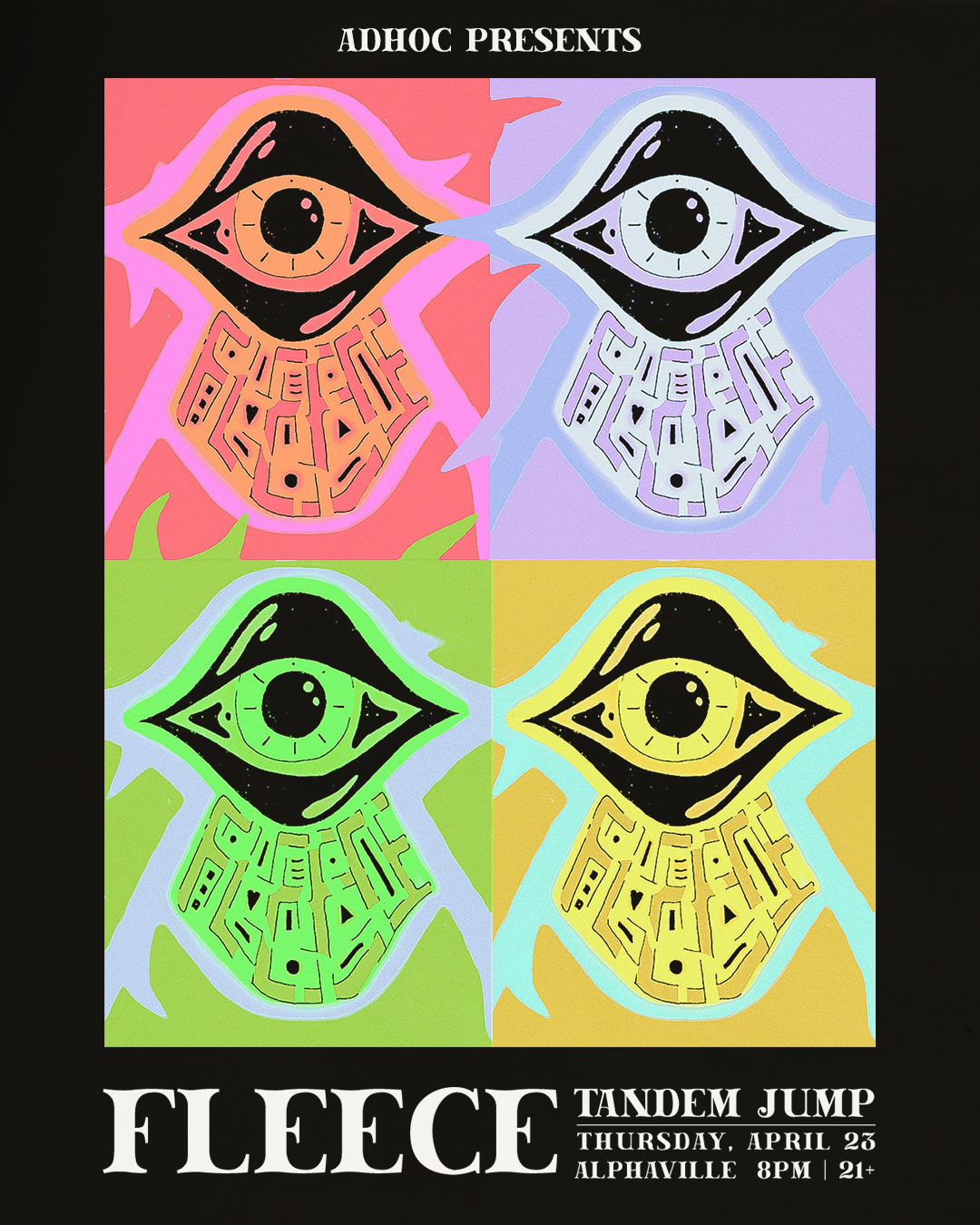 Plenty of artists can create hyper-colorful images communicating excitement, though few can do so with such fun fantastical imagery used by Kris Harris. Harris is a beloved graphic designer and musician who has created a number of iconic show posters for AdHoc over the past few years and, too, would be a good artist to collaborate on upbeat, vibrant album artwork with.
11. Tia Roxae – PA (she/her)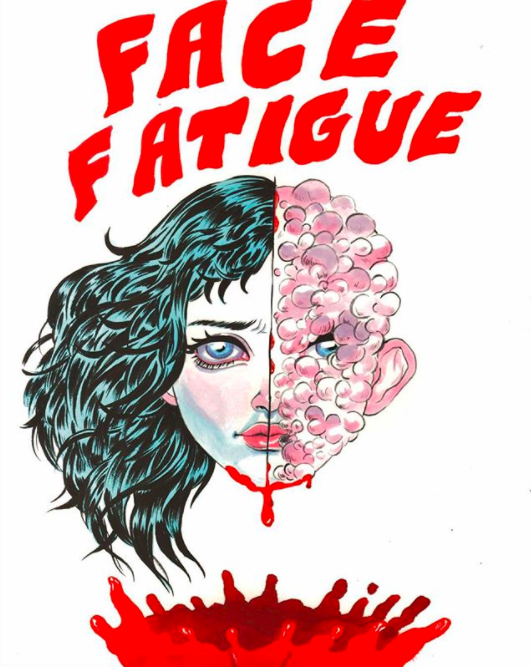 Tia Roxae mainly draws highly-detailed cartoon horror people and often sells small zines and prints at art fairs in the Philly area. Regardless, she is very interested in being commissioned for album art and e-gig flyers. While her portraits of (mainly) femmes have a clearly established style, less referenceable is her bold, comic-book lettering which is attention-grabbing and complimentary of her niche illustration aesthetic – which would be specifically fitting for show posters for emo bands and experimental artists.
12. Niko Chang – NYC (she/her)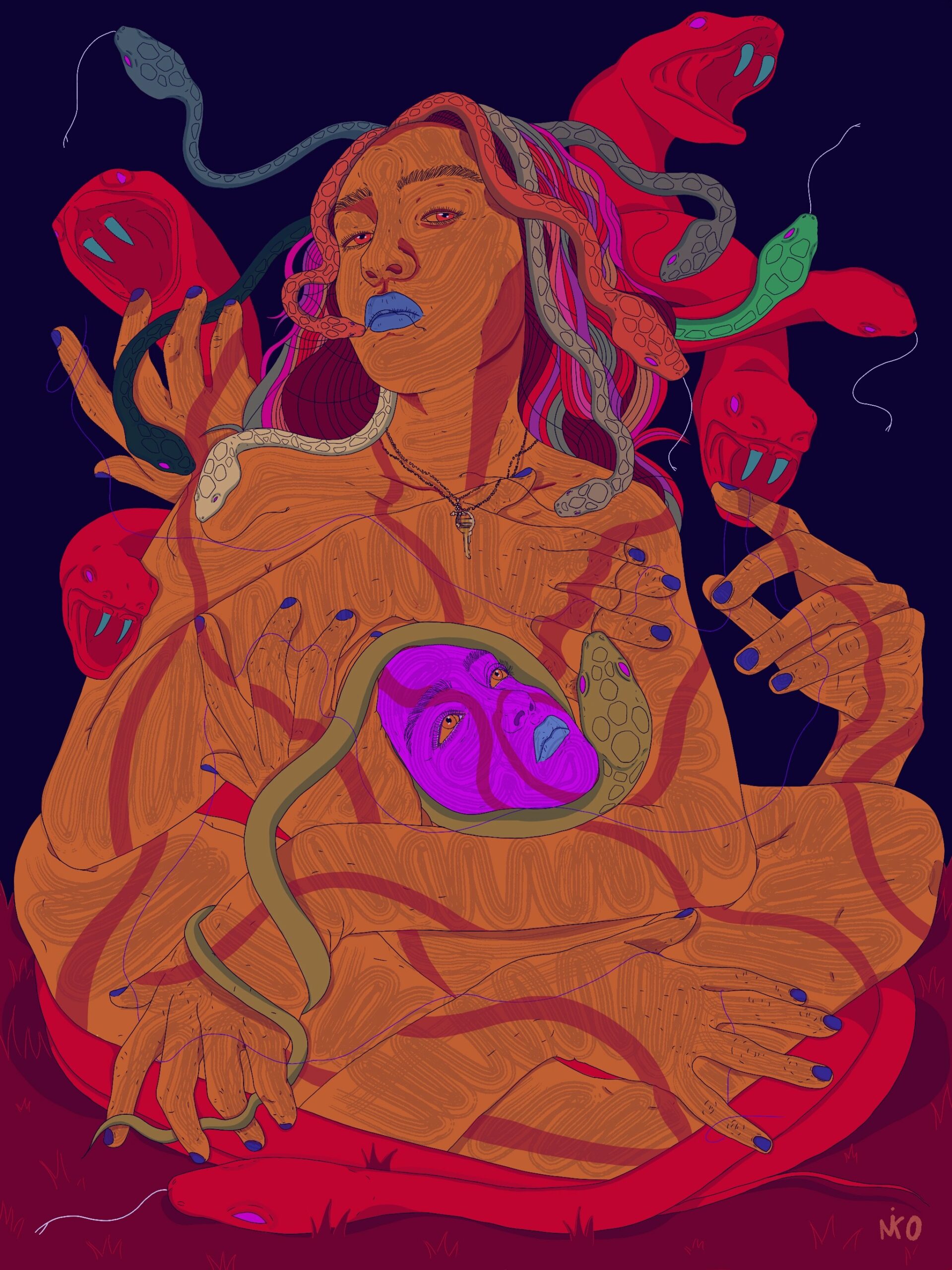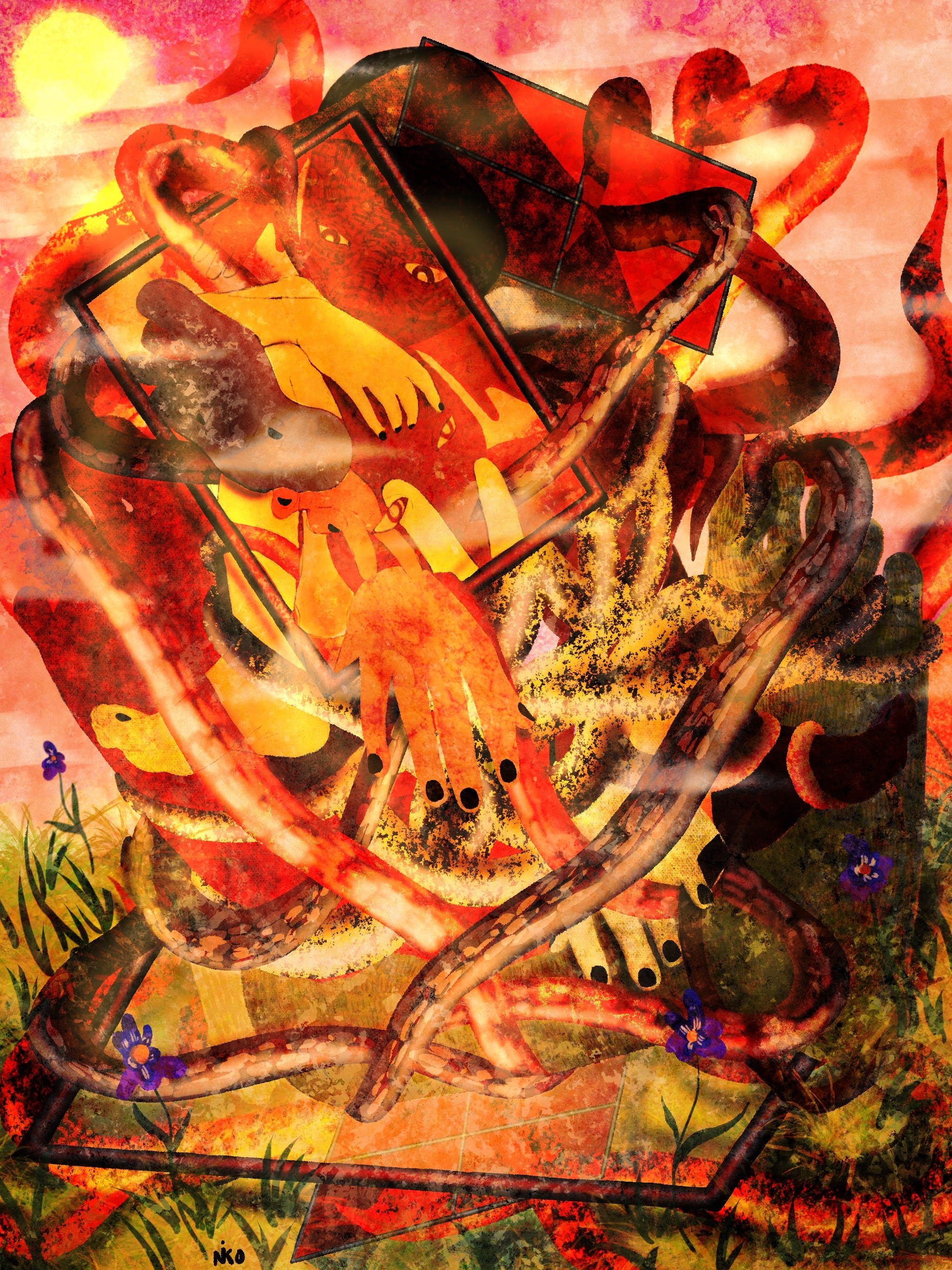 Niko Chang's highly-textured, abstract digital paintings often utilise warm earth tones and rough outlines to express boldness and fearlessness. Chang has created album artwork, an animated lyric video, show flyers, and merch design for different types of artists in the past.
13. Lia Sued – NYC (she/her)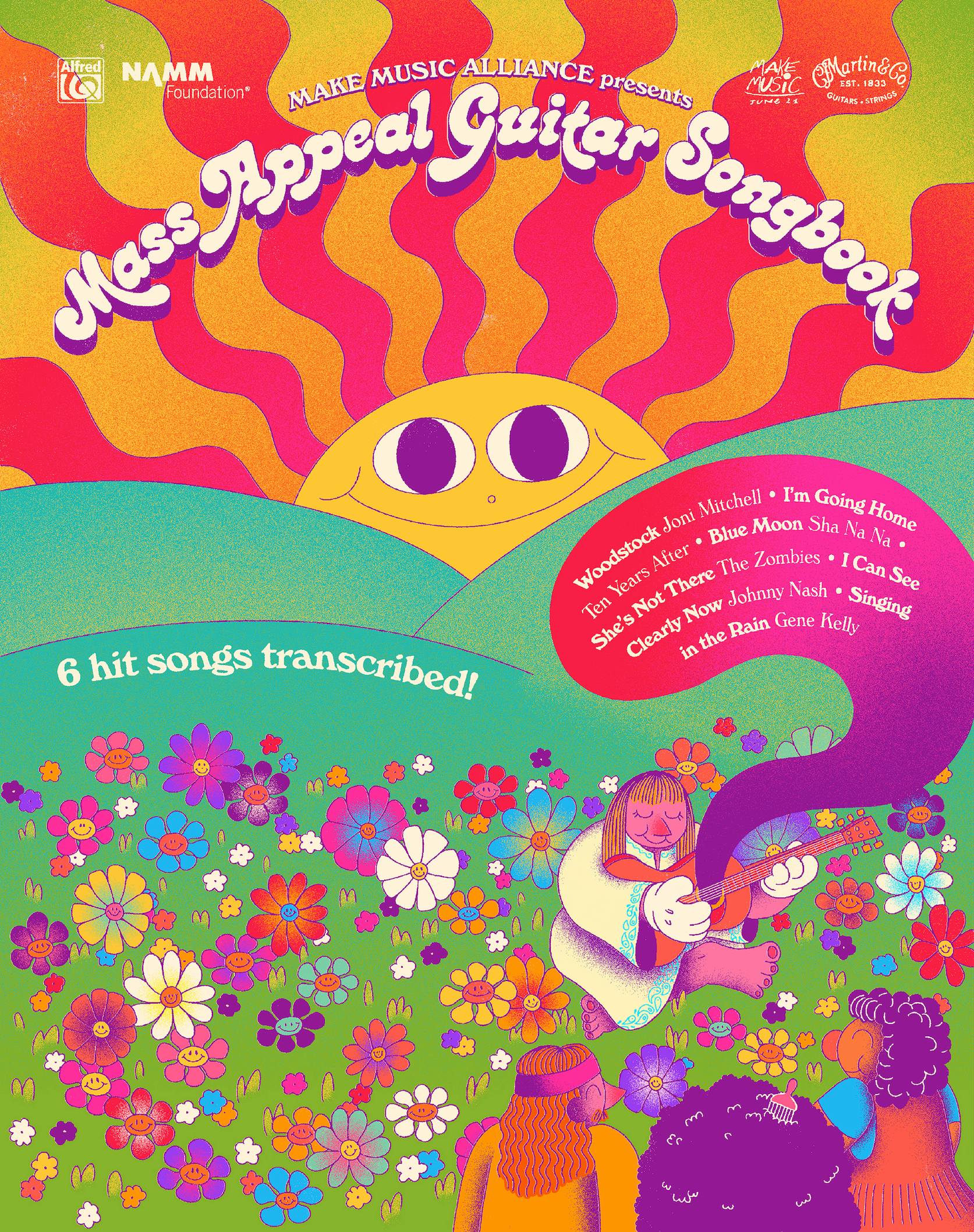 Clearly present in Lia Sued's retro-infused digital graphics is a bouncy sense of lightness, her stylized cartoon characters are comforting despite their clown-like features. Sued specifically has a knack for adorable-meets-70s graphic design in her illustrations. She is interested in being commissioned for anything, though seeing her graphics on merch would be particularly appealing.
14. Pazzi – NYC (he/him)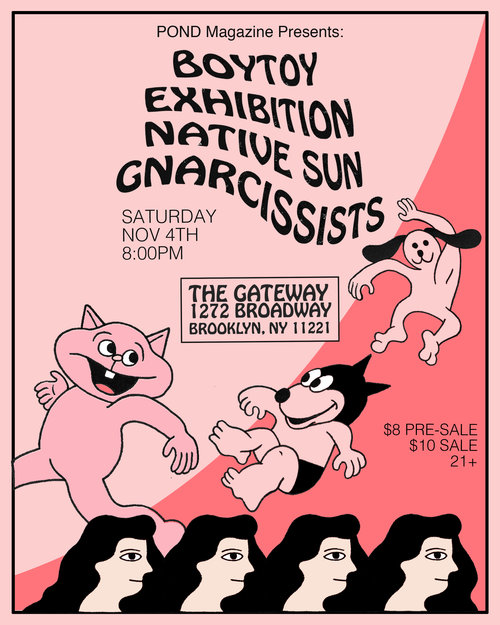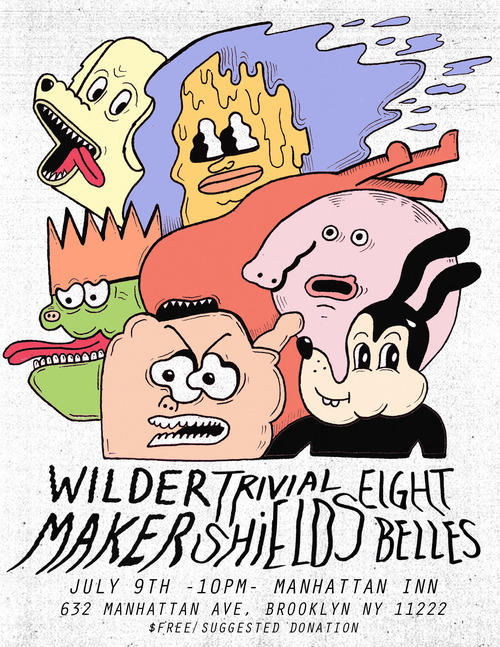 Utilizing playful cartoon characters infused in rich pinks and pale palettes, Pazzi's designs are slightly chaotic and unplanned, though hyper-organized nonetheless. Too, Pazzi shows skills in handwritten typography and warping of digital text in many of his past show flyers in the NYC area.
15. Kari Sylvain – IL (he/him)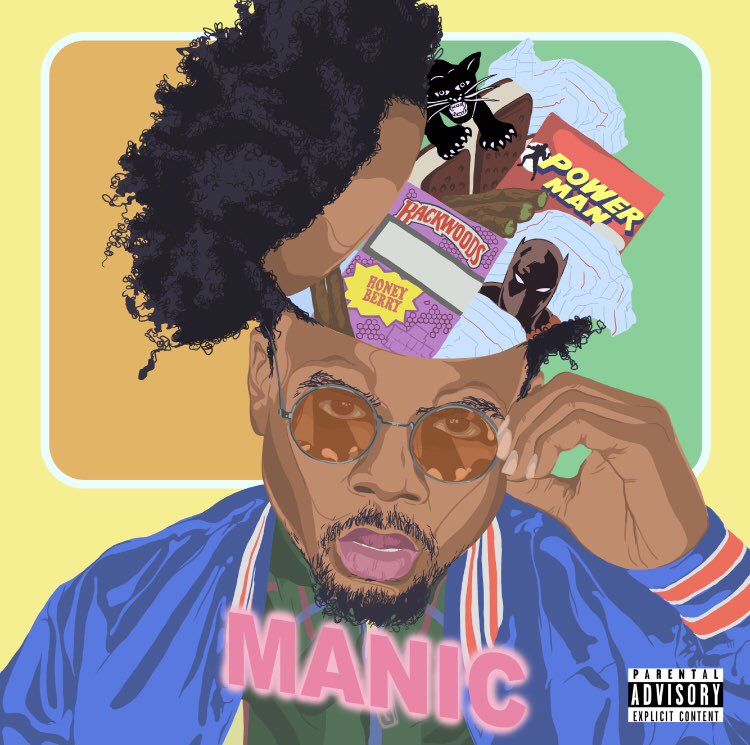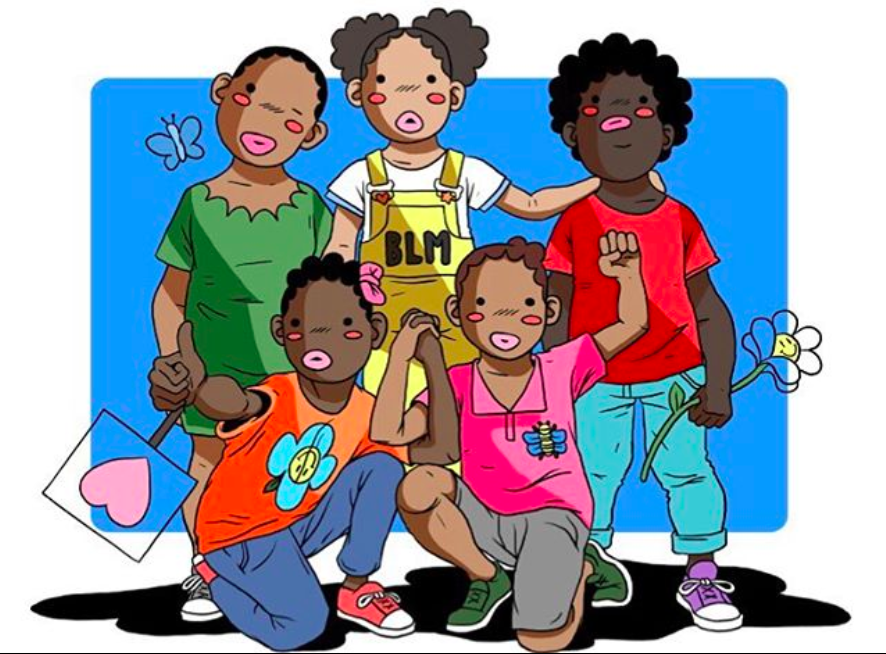 More commonly known as kariblak, Kari Sylvain is a muralist and digital illustrator currently based in Chicago. His talents offer a fun variety from stylized cartoon characters to surreal portraiture. He has previously worked on brightly-colored digital album covers for various hip-hop/rap musicians, though is also interested in creating any show posters in the future.
16. Elizabeth Gabriel – FL (she/her)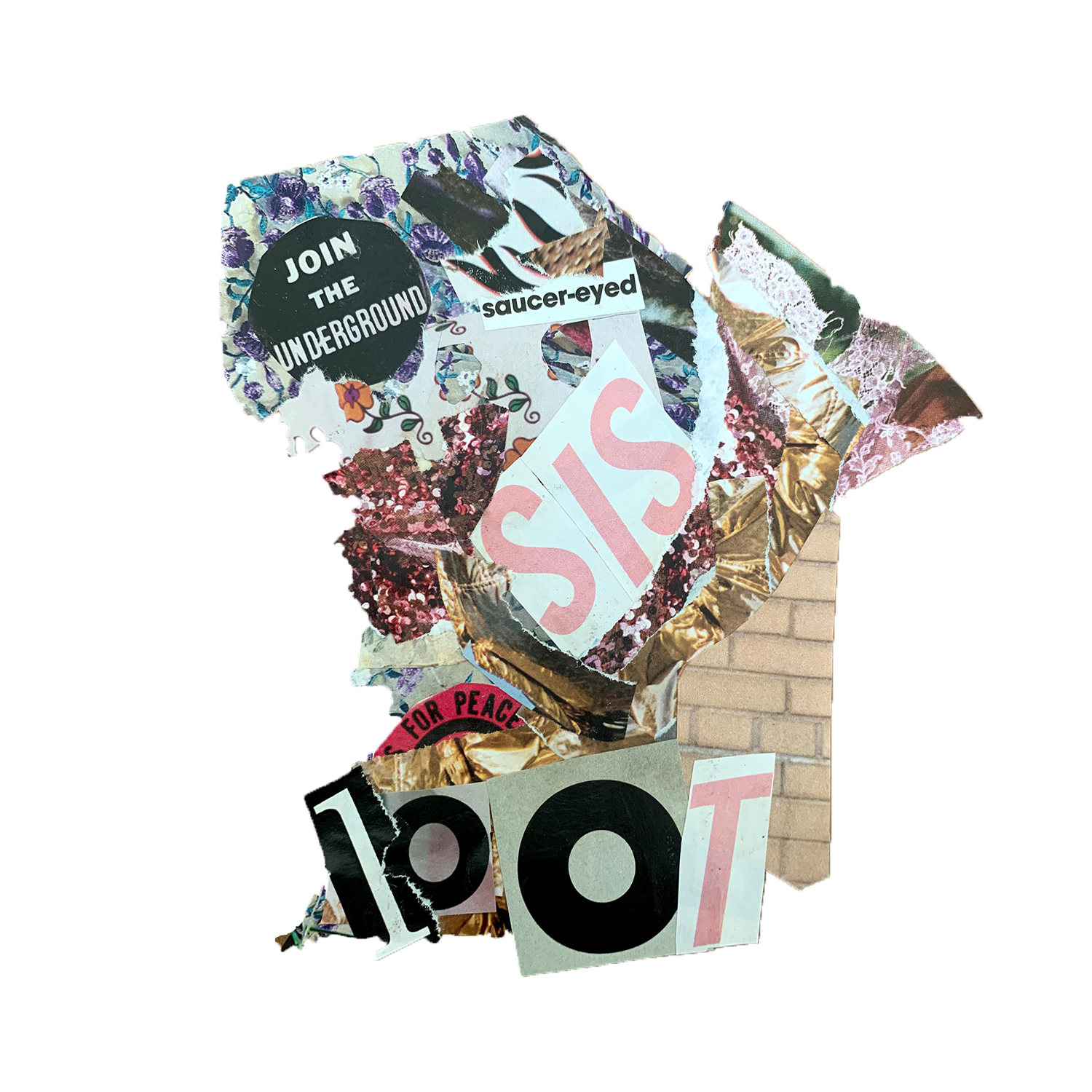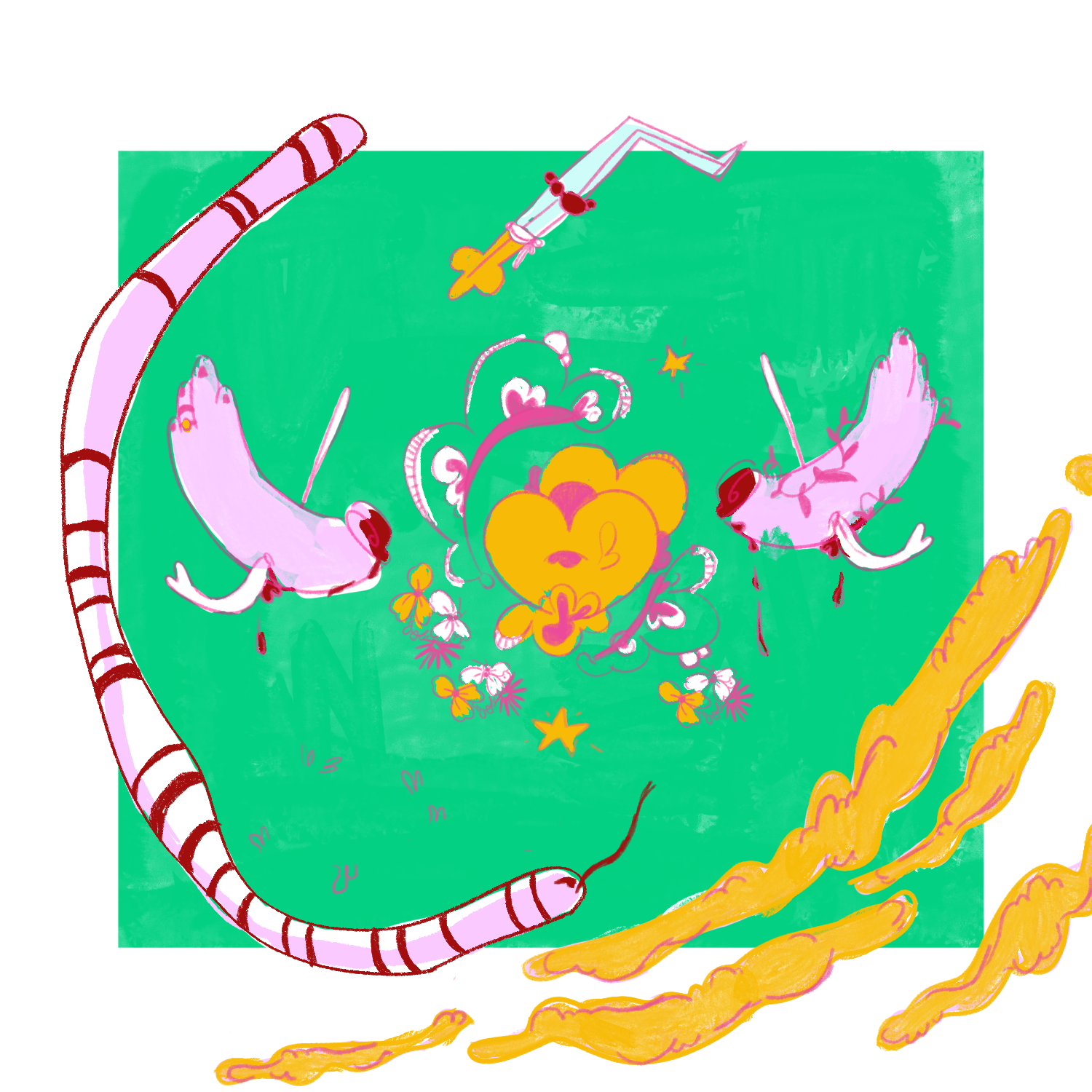 Florida-based visual artist Elizabeth Gabriel specializes in multimedia digital arts – specifically, that of illustration. Often combining abstraction with detailed portraits of femme people of color, Gabriel's art is more visually complex than one may initially think with its use of thoughtful coloring, hand-drawn nature, and rough technique.
17. Jasmyn Clark – GA (she/her)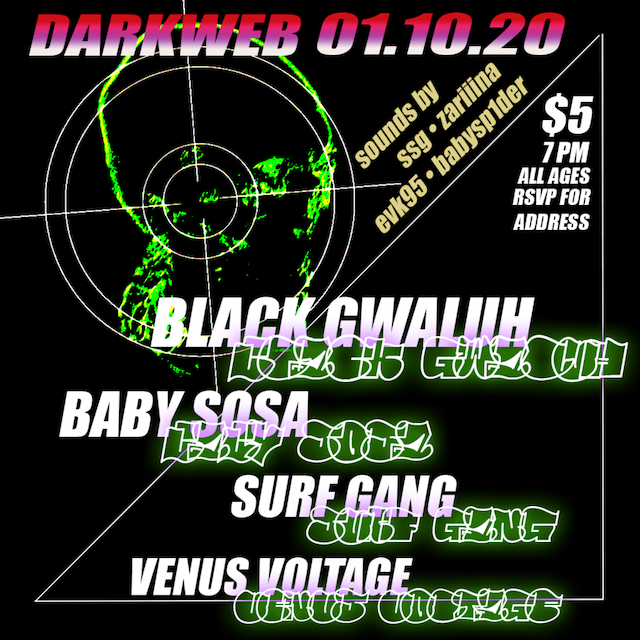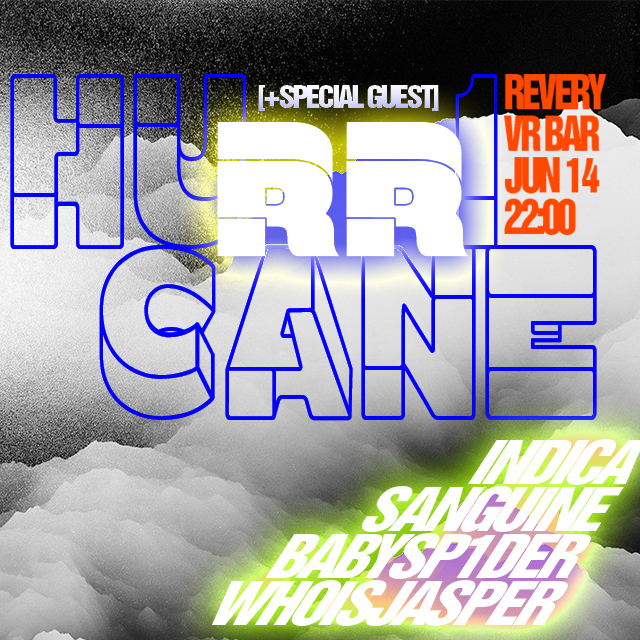 Graphic designer Jasmyn Clark's creative portfolio showcases an impressive background of flyer design in the DIY techno music scenes in both Atlanta and Brooklyn. She uses gradients and surrealism to create dark, dreamlike imagery. Though her commissions are currently closed, she has expressed interest in being commissioned for flyers and album artwork in the future.
18. Chelsea Alexander – NYC (she/her)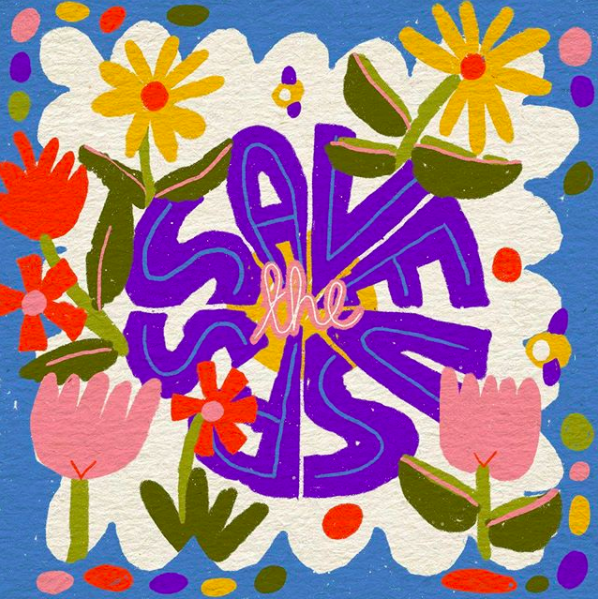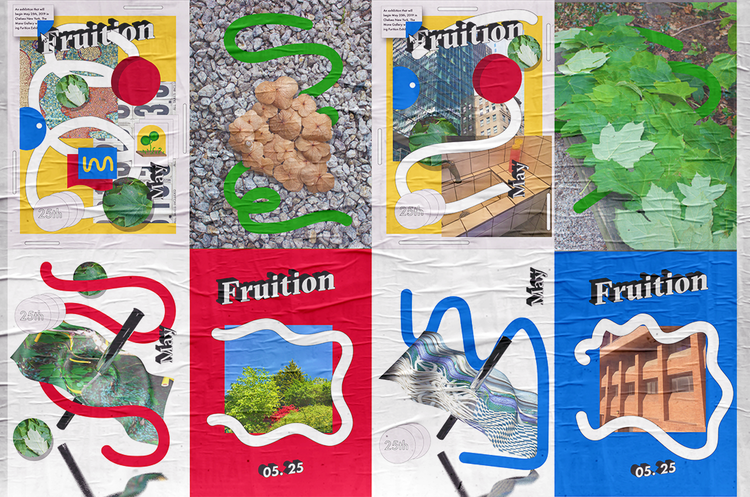 Alexander offers a wide range from heartwarming, rhythmic procreate drawings to modern, graffiti-like art campaign posters. Her recent work demonstrates a firm understanding of visual communication, as she often combines sketch-like aesthetics with decorative lettering to create graphics that are easily readable, admirable, and friendly.
19. Jordan Moss – NYC (she/her)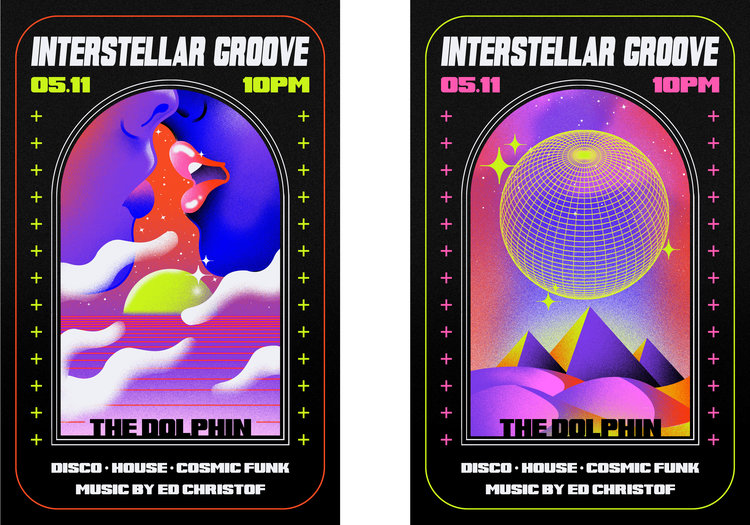 Jordan Moss's atmospheric, neon palettes produce ravishing designs ranging from flyers to editorial illustrations. Moss intersperses retro type with psychedelic-esque images to neatly put together a generally new-age aesthetic with irresistibly rich colors. Though she is sometimes quite busy with work, feel free to contact Moss to ask about availability, as she is interested in being commissioned for music-related projects.
20. Dia Moore – FL (she/they)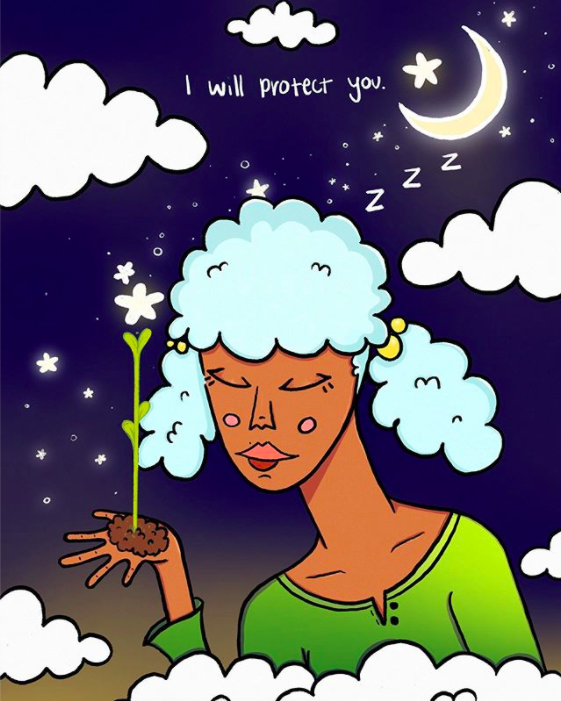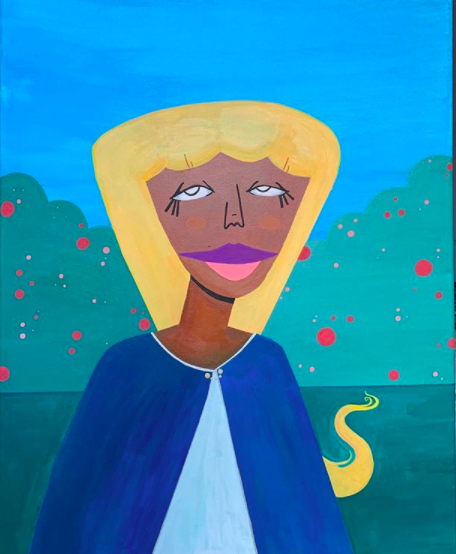 With a huge love for music and digital design, Dia Moore is eager to be commissioned for show flyers and album artwork at any time. They enjoy drawing stylized cartoon people with disproportionate facial features, often placed in imaginative, restful environments. Moore doodles on a daily basis and has skill sets in digital drawing, painting, and jewelry making (which would be useful for a new merch line).
21. Nina Yagual – FL (she/her)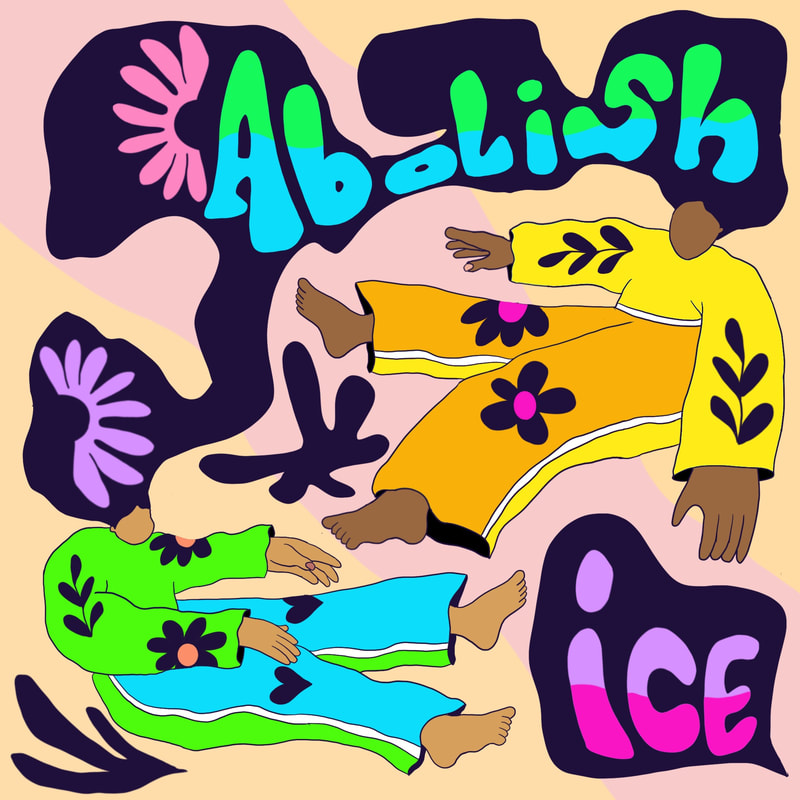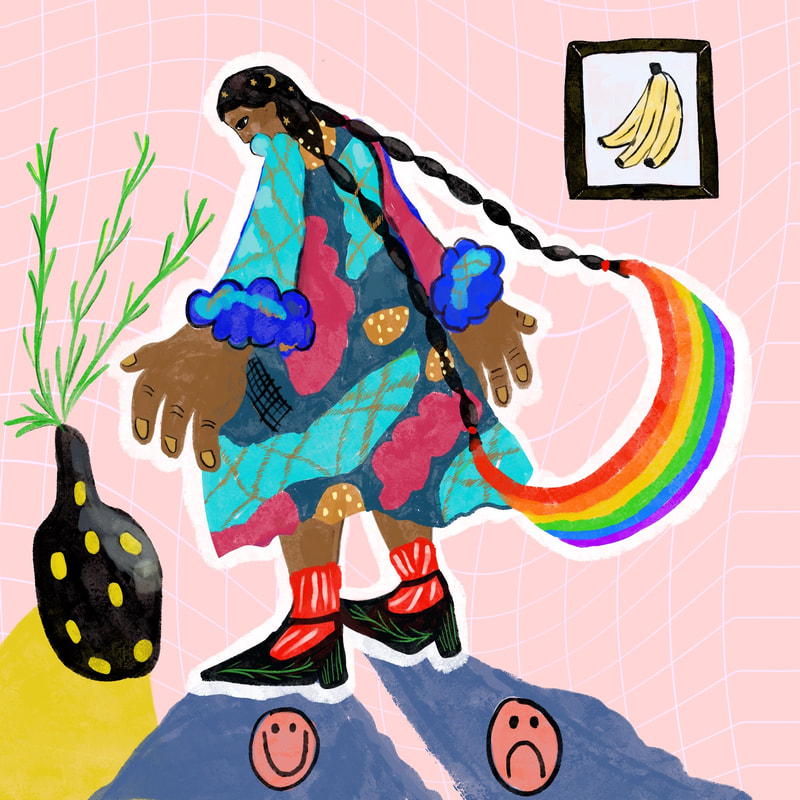 Nina Yagual's portraits of young femmes, often with long braids and an attachment to wavy rainbows, blur the line between fantasy and social advocacy. She does so by highlighting the beauty of Black and Indigenous lives with magical imagery, too captioning her work with empowered words to both inspire and encourage the BIPOC community to live in positivity. While her spiritual imagery would be fitting for gig posters and album covers, perhaps her playful characters would best live on merchandise. Not to mention, her doodle animations could make an incredible music video.